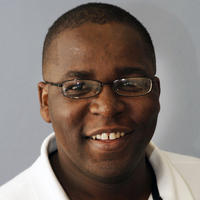 The director of Florida State University's Physical Biochemistry Facility is headed to South Africa on an international fellowship to help the University of Johannesburg develop a centralized lab system for university researchers.
Claudius Mundoma, director of the Physical Biochemistry Facility for Florida State's Institute of Molecular Biophysics, has received a fellowship from the Carnegie African Diaspora Fellowship Program. Program officials recruit African-born scholars in the U.S. and Canada to travel to African institutions to pursue research collaborations, curriculum development and training opportunities.
"Hopefully, this will lead to more collaboration between the universities," Mundoma said.
Mundoma, who grew up in Zimbabwe, provides training and research opportunities for both faculty and student scientists throughout Florida State. He also ensures the facility's lab equipment is maintained on a regular basis, writes grants for the lab and functions as a marketer, letting researchers know what is available to them.
"We wear a lot of hats," he said. ""We are managers, consultants, researchers, and we are also scientists at the core."
University of Johannesburg administrators are now hoping Mundoma can share his expertise with them as they try to develop a centralized lab system for their researchers. The university has several machines, but no overarching management system. In one case, it has a machine that nobody is trained to use.
Mundoma will help create training and management protocol for the university as part of a pilot program that will hopefully spread to other South African universities.
"This is critical for small universities that are under-resourced," Mundoma said. "It is also critical for universities breaking into the research world."
Mundoma's fellowship is administered by the Carnegie Corporation of New York, the Institute of International Education and Quinnipiac University. The fellowship will provide him with travel costs, a daily stipend and health benefits while he is abroad.
The Department of Chemistry at the University of Johannesburg will provide housing, meals and local transportation.
Mundoma leaves for South Africa in mid-July.