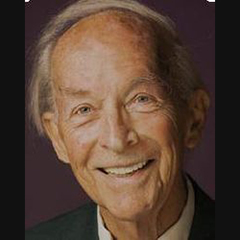 Members of the Florida State University community gathered Monday evening to celebrate the life of Michael Kasha, the late FSU chemist whose accomplishments included scientific discoveries, musical inventions and civil rights advocacy.
Kasha died last June at the age of 92.
Members of the university community felt it fitting to hold a celebratory tribute to Kasha, a modern-day renaissance man.
"Dr. Kasha had that rare talent of acuity, the ability to see things more clearly than the rest of us, and the initiative to discover how they could be made better," said Interim FSU President Garnett S. Stokes.
Kasha came to Tallahassee in 1951 to join the newly created Chemistry Department at FSU and quickly became a giant among the university faculty.
In 1960, he created the Institute of Molecular Biophysics, which he led for the next 20 years. He also chaired the Chemistry Department in the 1960s.
He became the first Floridian inducted into the National Academy of Sciences, and published more than 200 original works in photochemistry, chemical physics and biophysics.
He also became known as a staunch supporter of civil rights. In the 1960s, he organized several faculty members to raise bail money for FSU and FAMU students who'd been arrested for picketing Tallahassee's segregated movie theaters.
"Michael Kasha was one of those guys who thought about the world beyond the classroom and what he could be doing to contribute to our community," said Tim Logan, chair of the Chemistry Department.
But Kasha's interest went way beyond the community and the classroom.
He also delved into music and became known for something else — the Kasha guitar.
Kasha bought a classical guitar and thought it should sound better. So, he redesigned it and filed a patent.
The celebration of Kasha's life, held on campus Monday, April 7, attracted a wide number of faculty, staff and former students of Kasha. His wife, Lilli Kasha, sonNicolas and grandson Mikailoflew in for the event.Nicolas played music on one of his father's guitars at the celebration, and Mikailo performed on upright bass.