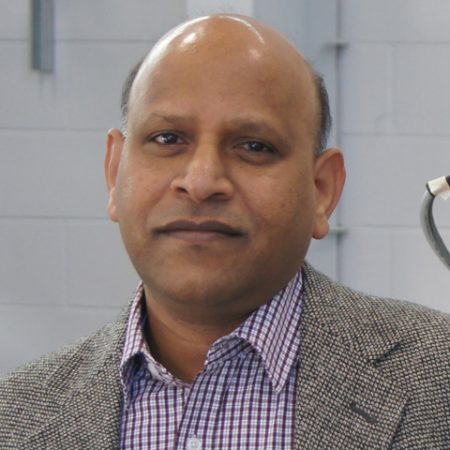 Researchers at Florida State University's Center for Advanced Power Systems (CAPS) achieved a major breakthrough in their ongoing high temperature superconducting cable project that will lead to increased power generation and reduced weight for future naval vessels and aircraft.
CAPS researchers, under a grant from the Office of Naval Research (ONR), were able to conduct 3000 amperes of direct current through a 30 meter-long high-temperature superconductor (HTS) test cable that is cooled using pressurized helium gas. The development is significant because the use of gaseous helium allows operation at significantly lower temperatures, thus reducing the size and weight of the power cables. Traditionally, liquid nitrogen is used to cool HTS cables.
"This is the first helium gas-cooled superconducting power cable demonstration in the world," said Sastry Pamidi, the project's principal investigator at CAPS. "Achieving this amount of power conduction using a much more ship-friendly cooling medium such as gaseous helium is a major accomplishment. It offers the Navy unique flexibility for a power delivery cable as it works to design and build a new generation of all-electric naval vessels with 100MW generating capacity and high power loads."
Most existing naval vessels operate through the use of diesel engines and mechanical drives that power the propulsion system and use auxiliary generators to create electricity for other systems such as radar and weapons platforms. However, future ships will have large electrical loads equal to the propulsion power of the ship and will require large amounts of generation capacity, equivalent to that of a small city. All-electric ships will dramatically increase the energy efficiency of all onboard systems, increase maneuverability, and be capable of safely delivering the high amounts of energy needed by next-generation naval weapons platforms.
"It is gratifying to see that the investment and sustained support that ONR and FSU have made in CAPS over the years is paying off with such a significant world record result," said Steinar Dale, director of CAPS. "This latest achievement by the CAPS team builds on our earlier breakthroughs with superconducting technologies that promise to reduce the weight and cost of future shipboard power systems, an important requirement for the Navy."
The Navy is evaluating HTS cables involved in this energy breakthrough for their use in power distribution and other applications. NASA and the Air Force are also developing all-electric airplanes that will need compact superconducting cables similar to the one used in this project.
FSU Vice President for Research Gary K. Ostrander congratulated the CAPS team for reaching this significant milestone in their research efforts.
"Whether it is helping the Navy explore the power options available for more advanced ships, creating new uses for high-temperature superconductors or helping Florida and the nation improve its power infrastructure, CAPS continues to be an invaluable part of FSU's materials and energy research focus," Ostrander said.
Founded in 2000, CAPS conducts research on advanced modeling and simulation of electric power systems, advanced controls, power conversion equipment, and high-temperature superconducting devices. CAPS also provides extensive research opportunities for graduate and undergraduate students in many advanced technology areas such as power systems, controls, applied superconductivity and cryogenics that will enhance critical-thinking skills and problem-solving abilities. In addition to their research efforts, CAPS is helping several small businesses in developing components for superconducting technology for Navy applications.
Besides Pamidi and Dale, many researchers contributed to the breakthrough, including Chul Han Kim, Lukas Graber, Horatio Rodrigo, Danny Crook, Steve Ranner and Bianca Trociewitz. To learn more about this project and the unique infrastructure in helium gas cryogenics being developed at CAPS, visit the Center for Advanced Power Systems.