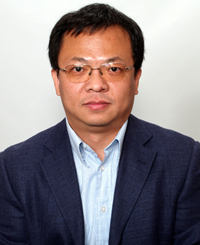 Florida State researchers have been awarded more than $1.4 million from the National Science Foundation to develop a system that will produce large amounts of a state-of-the-art material made from carbon nanotubes that researchers believe could transform everything from the way airplanes are built to how prosthetic limbs fit the human body.
"The goal is clear — to show industry the ability to use this in large-scale quantities," said Richard Liang, director of FSU's High-Performance Materials Institute (HPMI) and a professor for the FAMU-FSU College of Engineering. "We're looking at a more efficient, cost effective way to do this."
The material, buckypaper, is a feather-light sheet made of carbon nanotubes that is being tested in electronics, energy, medicine, space and transportation. The aviation industry, for example, is doing tests with buckypaper, and it's projected that it could replace metal shielding in the Boeing 787, currently made up of 60 miles of cable.
Engineers believe that replacing the cable with buckypaper could reduce the weight of the Boeing 787 by as much as 25 percent.
Florida State researchers have been engaged in other projects with buckypaper as well, including the use of the material in creating more advanced and comfortable prosthetic sockets for amputee patients and multifunctional lightweight composites for aerospace applications.
As revolutionary as buckypaper technology is, a major hurdle for its future use is that it can take two or more hours and can cost as much as $500 to make just a small 7-inch by 7-inch piece. Companies like Boeing need large amounts of it to use on an aircraft.
However, the current process is neither fast nor cheap.
So, Liang will spend the next four years developing a process to produce large-scale amounts of buckypaper. The process and materials would then be patented and marketed to meet the demands of the industrial partners.
Liang will be joined on the project by Arda Vanli, an HPMI researcher and an assistant professor in the Department of Industrial and Manufacturing Engineering, as well as researchers from Georgia Institute of Technology.
To learn more about the team leading this research, visit the High-Performance Materials Institute website. To view a short video about the potential of Buckypaper, visit "Unlocking the power of nanotechnology."