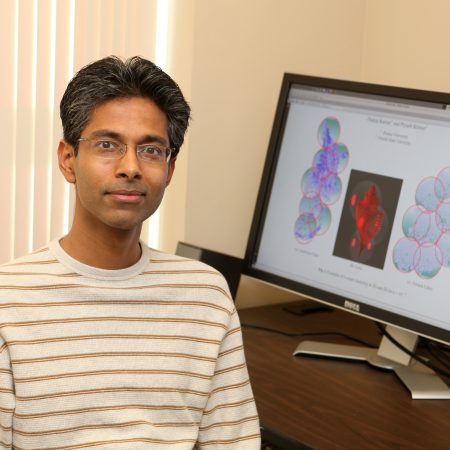 A Florida State University research team working to minimize the time and costs involved in bringing people together got a big boost for its efforts through a new National Science Foundation (NSF) grant aimed at helping researchers build companies and transform their work into marketable products.
With the help of the $50,000 NSF Innovation Corps (I-Corps) grant, Piyush Kumar and Samidh Chatterjee are building a Web/mobile app called Meeting Point that uses road graphs and complex geometric algorithms to help businesses and other groups of people find the closest, cheapest place to meet. The pair's unique approach and desire to bring their research to the marketplace made them one of only two I-Corps grant winners in the state of Florida.
"We envision Meeting Point as a tool that will appeal to a wide variety of people, especially businesses that are looking to reduce their costs and maximize employee time," said Chatterjee, a doctoral student and co-principal investigator on the project. "By analyzing road geometry and building that into the core functionality of the application, we are aiming for a degree of accuracy that no one else will be able to match."
In addition to helping people and businesses save money, Meeting Point also will produce environmental benefits such as reduced energy usage and air pollution, as well as advancing the technologies used in current Internet and mobile mapping software.
The NSF established the I-Corps program specifically to help researchers transition new scientific opportunities into valuable products through public-private partnerships, matching up perfectly with Florida State University's continued emphasis as an entrepreneurial "go-to" institution of higher education.
"We are very excited about this new grant and the training and support it provides in transforming our work into something that will be able to help people," said Kumar, an associate professor in the Department of Computer Science and principal investigator on the project. "Researchers are traditionally not well versed in the nuances of business, and grants like this, combined with the support of an institution like Florida State, make commercial success much more likely."
In addition to Chatterjee and Kumar, the development team consists of doctoral students Polina Volkova and James McClain, and master's student Bradley Neff. The project's entrepreneurial lead is Tyler Tatum of Ripple Management. To learn more about the Meeting Point project, visit the grant website. To use an interactive demo of Meeting Point, visit the application's demo site. To learn more about Kumar and his research group, visit his home page.
Florida State University, rated RU/VH ("Research University/Very High" research activity) by the Carnegie Foundation for the Advancement of Teaching, is one of the nation's leading research and creative-activity institutions. With nearly $204 million in external research funding in 2011 and a large collection of unique, cutting-edge scientific and performing arts facilities, Florida State offers faculty and students unparalleled opportunities to expand the frontiers of knowledge and discovery in their areas of expertise. To learn more about Florida State research, locate a subject matter expert or arrange an interview on a specific research or creative topic, contact Tom Butler at tbutler@admin.fsu.edu or Florida State's News and Research Communications Office at (850) 644-4030.