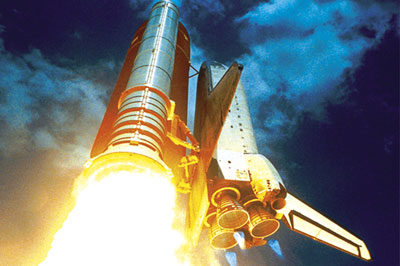 Following the momentous voyage of the space shuttle Discovery last week from the Space Coast to the Space Museum, many were saddened to see a high point of U.S. engineering and technical ingenuityfly off into retirement. Recognizing the huge vacuum that would be left in its wake, Florida has been busy charting a new flight plan for the industry through the one-of-a-kind Florida Center for Advanced Aero-Propulsion (FCAAP), headquartered at Florida State University.
Beginning its fourth year of existence, the multi-university Center of Excellence is unique in its use of the once rare practice of sharing knowledge and resources. Rather than problem solving in isolation, as is commonplace in competitive industries, FCAAP brings together aerospace and aviation experts from four leading Florida universities to research solutions as a collective mind.
Equally important, it also provides a direct connection between industry and university resources. Given the present state of affairs, this approach couldn't have come at a more pivotal moment, according to Kirby Kemper, Florida State's vice president for Research.

"The loss of the shuttle program, combined with a generation of aerospace engineers and scientists closing in on retirement, means big challenges for the nation's future air and space travel capabilities," Kemper said. "FCAAP addresses those challenges by focusing the combined aerospace and aviation expertise in our state on a common purpose, resulting in a Center that not only thinks about problems but actually jumps in the trenches to work on solutions."
United under FCAAP's shared knowledge approach, aerospace and aviation leaders from around the globe descended on the Florida State campus this week for FCAAP's Third Annual Symposium and Exhibition. Their goal was simple, but critical: have a candid conversation about some of the challenges faced by the industry and find solutions to overcome them. One of the most prevalent topics was the loss of the shuttle program and the resulting economic impact on both Florida and the nation.
"With a statewide economic impact rising into the tens of billions and surpassing a trillion dollars nationally, it is easy to see why aerospace and aviation is important to Florida's future prosperity," said Frank T. Brogan, chancellor of the State University System of Florida. "FCAAP is a great example of the type of opportunities we must pursue if we want to continue to deliver the research, talent and commercialization that will keep this great nation ahead of the global competition."
While the economics of shuttle retirements and aging engineers was a chief topic of concern, significant attention also fell on the environmental impacts of the U.S. air transportation system. Expected to expand significantly over the next two decades, technological breakthroughs will be needed to neutralize or reduce the negative impacts on the environment.
"As our air transportation system continues to grow, we are collaborating with U.S. industry, academia, and other government agencies to mitigate the environmental impact of aviation on our communities, providing viable concepts for reducing noise and carbon footprints," said Fayette Collier, project manager for NASA's Environmentally Responsible Aviation Project. "FCAAP provides a fantastic forum for aerospace and aviation experts to collaborate on these types of issues through a unique shared knowledge approach."
Reflecting FCAAP's broad support base, the annual gathering also served as the official dedication event for its new research headquarters. Housed on Florida State University's campus, the brand-new Aero-Propulsion, Mechatronics and Energy (AME) Building features 60,000 square feet of state-of-the-art equipment and laboratories designed to support cutting-edge research in aerospace, aviation, robotics and sustainable-energy engineering — a key feature of the new building is a polytonic wind tunnel that will enable aerodynamic testing and fundamental studies of aircraft subsystems at air speeds of up to Mach 5.
Established in 2008 by the Florida Legislature, FCAAP's central feature is the partnership between Florida State University, the University of Florida, the University of Central Florida and Embry-Riddle Aeronautical University. Through the partnership, each university contributes its particular aerospace and aviation expertise to the larger research effort, creating a one-stop-shop for aerospace stakeholders — industry and government agencies, looking for solutions to technical or scientific problems. Equally important, the shared expertise approach pulls double-duty by creating interdisciplinary learning environments that churn out highly trained scientists and engineers.
To learn more about FCAAP and the Third Annual FCAAP Symposium and Exhibition, visit www.fcaap.com.