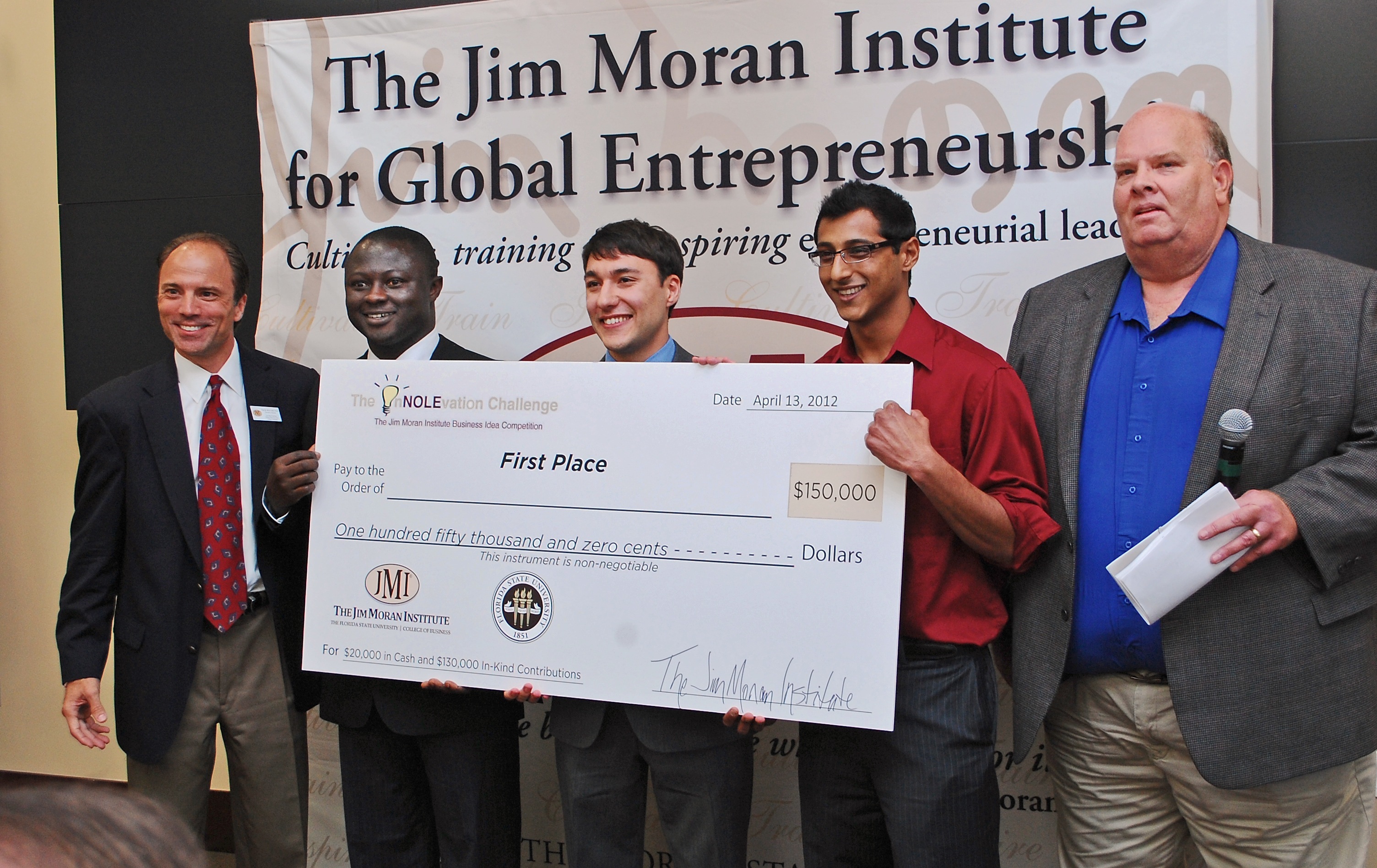 They vied against some stiff competition in the Shark Tank round of Florida State University's InNOLEvation Challenge and faced tough questions by a panel of judges, but on April 13, High-Throughput Revolutions emerged as the first-place winner of the six-month business competition, and taking home $150,000 in cash and in-kind services.
The remaining $100,000 was distributed among the two runners-up and the seven remaining finalists.
The first-place winners and founders of High-Throughput Revolutions are biological science majors Nicolas Vafai and Aubrey Kusi-Appiah, both graduate students, and Sohai Merchant, a senior.
Shark Tank was the third and final round of the InNOLEvation Challenge — one of the nation's largest collegiate business plan competitions — sponsored by the Florida State University College of Business and The Jim Moran Institute for Global Entrepreneurship. Ten student business startups competed in the Shark Tank, culled from an initial 78 fledgling businesses that submitted business plans in October. The owners of the final 10 businesses made their pitches for funding before a panel of five judges from the investment community. The ranking of the teams was based on the judges' willingness to invest in the company. Scores are based on the written business plan, an oral presentation and business viability.
High-Throughput Revolutions LLC's business plan detailed its strategy to provide "LIMITtm" — LIposome Microarray Technology — to offer a cost-effective solution for high-throughput screening (HTS) during drug development. HTS' founders say the market for HTS accounts for the largest share of the drug discovery market. "HTS technology has the potential to carry our tests at higher magnitudes in addition to being cost-effective, which is highly advantageous," said Vafai. "In the future, we plan larger purchasing contracts with pharmaceutical companies, which will translate into steady and larger profit margins."
The runners-ups included:
Nanotech Patronas Group (NP Group), which placed second in the competition, walking away with $55,000 in cash and in-kind services. NP Group comprises industrial engineering doctoral candidates from the Florida A&M University-Florida State University College of Engineering. Team members include Ph.D. candidates Tarik Dickens and David Olawale. NP Group is in a damage monitoring and prevention business that uses innovative triboluminescence sensor systems for engineering structures, such as aircrafts, buildings and bridges. The company was founded in 2011 after more than five years of research and development on the triboluminescence sensor systems.
Third-place went to the founders ofCollege Cleaners, seniors Michael Loudis, who is majoring in business administration; Patrick Cueva, an economics major; and Kash Fallahzadeh, an accounting major. Their take home was $45,000 in cash and prizes. College Cleaners, LLC is a janitorial company concentrating in the cleaning and sanitation of student homes/apartments, fraternity/sorority homes, and commercial offices, as well as bars, clubs and restaurants. College Cleaners also specializes in the busy college town summer-turn period, during which students moving out are quickly replaced by new student tenants. College Cleaners seeks to fill a market need for cleaning services for both residential and commercial properties.
The other competing teams included:
CalSpark: CalSpark offers users a high-quality productivity application across all customer devices via the web. CalSpark's product is designed to make it easy and convenient to organize day-to-day activities and connect users with events of interest. It also allows users and businesses to promote their events.
Piano Conservatory of Tallahassee, whose goal is to provide high-quality preschool, pre-college and adult piano instruction to residents of Tallahassee, using the Carnegie Hall Achievement Program Curriculum. The company offers comprehensive music education, including applied lessons, music theory and appreciation classes, and ample opportunities to perform.
CampusZilla.com, whose mission is to provide free, useful and reliable information tailored to the needs of individuals interested in learning more about the college experience. The company provides advice on selecting the right school, career guidance, and identification of the best housing environment, among other things. Providing the full spectrum of personalized collegiate information for anyone interested is the foundation of CampusZilla.com.
Wordio, which aims to make the consumption of digital information more efficient. By transforming written content on the web to audio instantly, the company enables its users to listen to their favorite web articles while driving, exercising or relaxing.
Startupism, which has has created a startup business simulation game to be sold to universities as class material. Much like simulators used in most business schools, Startupism's game will be based on famous cases so students can compare their decision-making against real-world business leaders. Case material will be written by academics, and Startupism will create the game platform and user interface.
LESS, which designs products that allow utility companies to increase efficiency and customer satisfaction and decrease peak load usage. LESS plans to develop three products to achieve this. The first product is designed to change consumer behavior so users shift power consumption to times of lower demand. The second product is an application for utility companies to increase efficiency in the field, and as such, to recover from outages more quickly. The third product is an integrated hardware and software solution that allows consumers to turn key appliances off during peak load times for short time periods.
Nutrition Experts (NX), whose goal is to create increased access to registered dietitians and medical nutrition therapy services. The company initially plans to launch in the Big Bend area of Florida. It offers flexible and up-to-date services using the Internet and mobile technology. The company intends to align with health care providers and target its services to the insured, families, and children.
Judges included:
Farouk Al-Shorafa, Idea Farm South, Fort Myers, Fla.
David Lawson, TrueGivers, LLC, Tallahassee, Fla.
Nada Usina, Russell Reynolds Associates, New York City
Chad Kittrell, Hunter & Harp Holdings, LLC, Tallahassee, Fla.
David Whitney, Energents, Gainesville, Fla.
The competition was supported by corporate sponsors, including: ALCOM, Palo Alto Software, Strategic Media Arts, Viera Williams, P.A. Attorneys at Law, MarketDone, LooksForBooks.com, Notelog.com, PayOut USA, RoomSync, Duncan-Williams, Inc., Energent Ventures, Specialissues.com, Creative People Consulting, Honey Tree, The Prescient Consulting Group and VC Mentor.