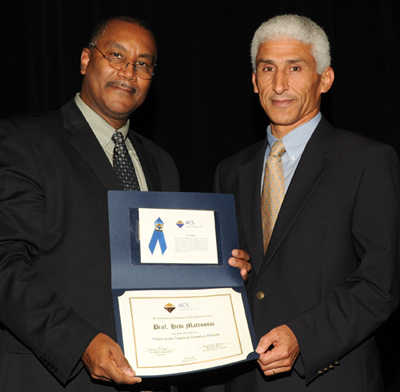 A Florida State University researcher whose decades of work in the laboratory have contributed important knowledge that could one day lead to earlier detection of diseases such as cancer or genetic disorders has received what is perhaps his biggest professional honor.
Hedi Mattoussi, a professor of chemistry and biochemistry and a faculty member in Florida State's Integrative Nanoscience Institute (INSI), has been elected a fellow of the American Chemical Society's Class of 2011. The ACS is the world's largest member-driven scientific organization. ACS fellows, who constitute just 0.2 percent of the society's overall membership, must demonstrate outstanding and sustained excellence in scientific research or a related profession and have provided significant service to the ACS.
The fellowship certificate was presented to Mattoussi recently in a special ceremony at the Fall 2011 ACS National Meeting in Denver. He was one of 213 educators and researchers from the chemical sciences worldwide to receive the honor this year.
"Of course I am very pleased with my election," Mattoussi said. "I am honored and humbled that my peers have found my contributions worthy of inclusion in such a prestigious group.
"I would like to acknowledge the help I have received from the many postdoctoral researchers, colleagues and graduate students with whom I have worked over the past 25 years at several institutions, including the Collège de France in Paris, MIT, the Naval Research Laboratory in Washington, D.C., and more recently, Florida State," he said. "They all made my task easier and scientific life exciting and rewarding."
For more than two decades, Mattoussi has conducted research in several areas, ranging from the physics of polymers and liquid crystals to the physical chemistry of inorganic nanocrystals (namely luminescent quantum dots, or QDs, and metallic and magnetic nanoparticles) and their interconnections with biological systems.
"Quantum dots, which are nanoparticles that glow brightly when you illuminate them, are used for imaging of biological samples and could one day provide early detection of diseases such as cancer," said Joseph Schlenoff, Florida State's Leo Mandelkern Professor of Polymer Science, who brought Mattoussi to FSU in 2009 while Schlenoff was chairman of the chemistry department. "Professor Mattoussi has been a leader in the field from the time QDs were discovered."
In addition to his contributions to the fundamental understanding of QDs, Mattoussi has also added to the scientific knowledge of polymeric materials, the surface functionalization of nanoparticles, the sensing of protein interactions and the imaging of live cells.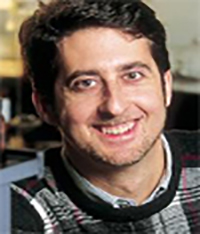 Mattoussi started his research career at the Université Pierre et Marie Curie, studied at the Collège de France as a graduate student, then did postgraduate work at several institutions in the United States, including the Massachusetts Institute of Technology.
"The impact of Professor Mattoussi's lifetime of work is remarkable," said Schlenoff, who first met Mattoussi when both were postdoctoral associates at the Polymer Science and Engineering Center, University of Massachusetts Amherst. "He has had more than 140 interdisciplinary scientific reports on his research published in peer-reviewed journals. Most significantly, his publications have generated (as of September 2011) more than 12,000 citations, with over 75 citations per publication. This clearly reflects the tremendous impact that Mattoussi's work has had on his peers in the field."
Schlenoff spoke glowingly of the many accomplishments of his longtime friend and colleague.
"This ACS honor crowns Professor Mattoussi's growing list of recognitions for his creative and far-reaching research on the understanding of QD and nanoparticle design, functionalization and use in biological sensing and imaging," he said. "No one in his field is as deserving of this very high honor as Hedi."
In addition to the ACS recognition, Mattoussi has accumulated a number of other significant honors in recent years. Among them:
2008 — Thomas Edison Sigma Xi Basic Science Award
2008 — Top Navy Engineer of the Year Award
2006 — Gambrinus Guest Professor Fellowship, University of Dortmund, Germany
2006 — Technology Transfer Award, U.S. Department of the Navy
Even more exciting for Mattoussi, he said, is the research grant he was recently awarded by the National Science Foundation (NSF) to support his research. The NSF grant, worth $420,000, is for three years and will be used to support his work on understanding and characterizing the surface properties of inorganic nanocrystals and demonstrating their use in biological sensing and imaging.
Mattoussi also has a grant agreement with Pfizer, the world's largest pharmaceutical company, to use QD nanoprobes to visualize and probe the body's blood-brain barrier, which protects the brain from many types of infections but can also make it difficult to diagnose and treat various brain disorders.
Mattoussi is the third ACS fellow from Florida State. Alan Marshall, FSU'S Robert O. Lawton Professor of Chemistry and Biochemistry, and Naresh S. Dalal, the university's Dirac Professor of Chemistry and Biochemistry, were named ACS fellows in 2009 and 2010, respectively.
"The ACS honor is not just for research," Marshall said. "It requires high-level service to the chemistry community and recognizes Professor Mattoussi's prior service to Florida State, as well as his organization of national and international symposia and conferences."
"Professor Mattoussi continues to distinguish himself and Florida State," said Dalal, "and we are delighted to see him join the exclusive ranks of American Chemical Society fellows."
To learn more about Mattoussi's research, contact him at (850) 645-8615 or mattoussi@chem.fsu.edu.