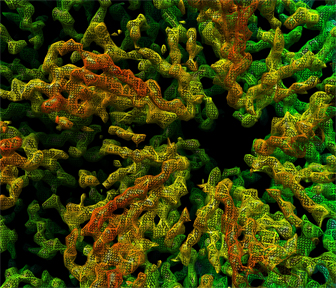 Florida State University is home to one of the world' s most advanced robotic electron microscopes, the FEI Titan Krios. In early December, the state-of-the-art imaging device will be formally dedicated during a scientific symposium that will bring in microscopy experts from around the United States and England to discuss their research.
FSU' s Institute for Molecular Biophysics is hosting the symposium, "Frontiers in Macromolecular Imaging," which will focus on the future of three-dimensional electron microscopy and the challenges that need to be met to realize its potential.
The three-day event will take place:
THURSDAY, DEC. 1 (BEGINNING AT 6 P.M.) – SATURDAY, DEC. 3 (ENDING AT 5:30 P.M.)
AUGUSTUS B. TURNBULL III FLORIDA STATE CONFERENCE CENTER
555 W. PENSACOLA ST.
TALLAHASSEE, FLA.
The symposium is free and open to the public; online registration ends Monday, Nov. 21, at 5 p.m. There will also be an open house to view and learn about the microscope on Thursday, Dec. 1, from 1 to 5 p.m. Registration is not required for the open house.
Visit www.sb.fsu.edu/~symposium for a complete schedule of events and list of speakers, as well as information on parking and accommodations.
Standing 16 feet high and weighing 1.7 tons, Florida State' s FEI Titan Krios microscope is one of only a handful of its kind in the world that are currently in operation. The fully automated cryo-electron microscope provides rapid, three-dimensional imaging of frozen specimens around the clock via remote operation, then transmits them over the Internet.
In addition to significantly speeding the collection of crucial data, the FEI Titan Krios allows researchers in biology and chemistry at Florida State and colleagues at other institutions to get unprecedented views of — and continual access to — the intricate interactions of individual proteins and molecular machines within the living cells of complex biological structures. This capability has the potential to further the understanding of biological pathways in significant disease fields such as cardiovascular disease or cancer.
Read more about the FEI Titan Krios here and here.
For more information on the symposium, contact Assistant Professor Scott Stagg of the FSU Department of Chemistry and Biochemistry at (850) 645-7872 or sstagg@fsu.edu.