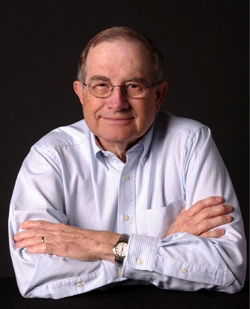 Neal Lane, a senior fellow in science and technology policy at the James A. Baker III Institute for Public Policy and a faculty member in the Department of Physics and Astronomy, both at Rice University, will speak at the third of four events comprising this fall's Faculty Luncheon Series on Tuesday, Nov. 8.
In keeping with this semester's theme of  "Unity in Diversity — An Academic Community Reflects on the Three Cultures: The Humanities, Social Sciences and Natural Sciences," Lane will discuss "How the Natural Sciences May Inform, And Be Informed By, The Humanities and Social Sciences." The event will take place:
TUESDAY, NOV. 8
LUNCHEON BEGINS 12:15 P.M.
PROGRAM BEGINS 12:40 P.M.
PRESBYTERIAN UNIVERSITY CENTER/ WESTMINSTER HOUSE
548 W. PARK AVE.
TALLAHASSEE, FLA.
Lane, who holds the title of Malcolm Gillis University Professor at Rice, served as an assistant to the president for science and technology and Director of the White House Office of Science and Technology Policy from 1998 to January 2001 under President Bill Clinton. He previously served as Director of the National Science Foundation and a member (ex officio) of the National Science Board from 1993 to 1998.
Luncheon reservations may be mailed to the Presbyterian University Center, 548 W. Park Ave., Tallahassee, FL 32301, with a check made out to the Presbyterian University Center and clearly marked "Faculty Luncheon Series." The amount of the check should be $9 for one luncheon or $18 for the remainder of the luncheon series. Alternatively, reservations may be made by calling the center at (850) 222-6320 or sending an email to bac4259@fsu.edu. Payment may then be made at the door. All reservations must be received by Friday, Nov. 4, at noon. Seating is limited, and early reservations are strongly recommended.
All luncheons will be webcast live and made available as an archive on the luncheon series website. In Tallahassee, WFSU-TV will also televise each luncheon several weeks after each event on cable Channel 4. For more information on the speakers, and the series in general, visit the Faculty Luncheon Series website at this link.
For more information, contact Faculty Luncheon Series organizer and moderator Robert Ross at (850) 228-5641 or rross@fsu.edu.