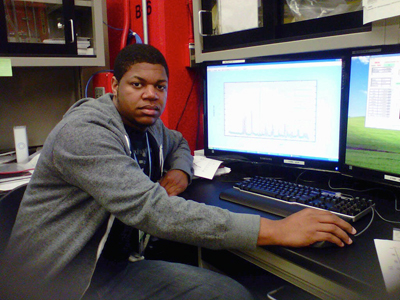 Corey Thompson, a doctoral student in the Florida State University Department of Chemistry and Biochemistry, is one of 20 doctoral students nationwide to receive a 2011 Ford Foundation Dissertation Fellowship. The highly competitive fellowship includes a $21,000 stipend.
"I am very grateful for not only being a recipient of this award but a representative of Florida State University," Thompson said. "This award speaks volumes for the type of research we do here at FSU and its importance to society."
Ford Foundation Dissertation Fellowships, which are awarded by the National Research Foundation, are given to individuals who have demonstrated superior academic achievement; are committed to a career in teaching and research at the college or university level; show promise as scholars and teachers; and are well prepared to use diversity as a resource for enriching the education of all students. The fellowships provide a year of support for students who are working to complete a dissertation leading to a Doctor of Philosophy (Ph.D.) or Doctor of Science (Sc.D.) degree.
Thompson's dissertation, "Magneto-Structural Correlations in Rare-Earth Cobalt Pnictides," focuses on the development of novel magnetic materials that can be used for practical magnetic applications. In turn, these applications could lead to energy efficient and economical technologies such as chlorofluorocarbon-free magnetic refrigeration or more efficient magnets in computer hard drives. Thompson conducts his research in the laboratory of Florida State chemistry and biochemistry Assistant Professor Michael Shatruk.
"I consider Corey's project to be the toughest in my research lab," Shatruk said. "I warned him about this when he decided to join my group to work on magnetic intermetallic compounds, but Corey didn't change his mind. He wanted to work on the toughest problems. That impressed me a lot."
In winning this fellowship, Thompson has demonstrated that Florida State's Department of Chemistry and Biochemistry is a great place not only for minority students but for all students to reach their full potential, Shatruk added.
Thompson, who plans on becoming a research professor, is hopeful that the award will give his research, teaching and community involvement more prominence in the eyes of potential employers.
"All these components along with the award will be of great benefit to my personal and professional development," he said.
Thompson, a native of Miami, earned a Bachelor of Science degree in chemistry from the University of Florida in 2006. He did not earn a master's degree, but went straight into Florida State's Ph.D. program in chemistry and biochemistry. He is one of several Florida State graduate students to receive some of the nation's most prestigious fellowships and awards this year. To learn more, click here.