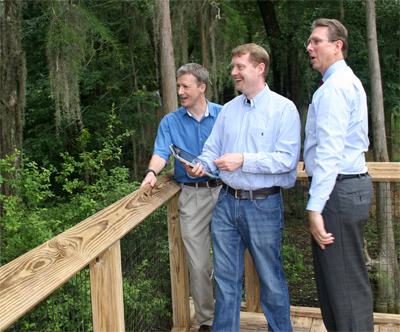 A team of researchers from The Florida State University is using a $1.2 million grant from the U.S. Department of Education to equip fourth- and fifth-graders with handheld digital journals to monitor natural habitats and analyze wildlife behavior at the Tallahassee Museum.
Habitat Tracker — a joint project of FSU's College of Communication & Information, College of Education and Learning Systems Institute and the Tallahassee Museum — is designed to encourage students to conduct scientific research through online and mobile technologies. It will help students master the new "scientific inquiry and nature of science" benchmarks advocated by national science education reform efforts and mandated by Florida's Next Generation Sunshine State Standards for Science.
"Students will collect and analyze data about the Tallahassee Museum's wildlife habitats before, during and after visits to the museum, learning about collaboration and scientific research by sharing their observations with other students," said Paul Marty, associate professor in the College of Communication & Information, and the project's principal investigator. Co-principal investigators are Ian Douglas, associate professor at the Learning Systems Institute, Sherry Southerland, professor in the College of Education, and Victor Sampson, assistant professor in the College of Education.
About 1,500 students from rural and urban elementary schools in the Leon County, Gadsden County, and Florida State University Schools districts will participate in the project over the next three years. Before visiting the museum, students will research the museum's wildlife online, collaborating with students from other schools to develop research questions and determine what data they'll need to answer their questions.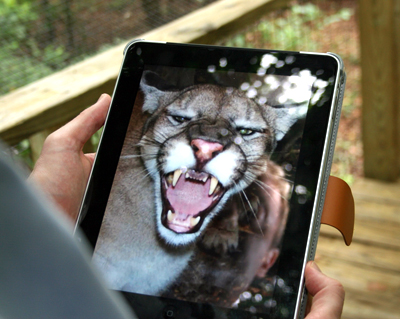 At the museum, students will use handheld computers to record data about wildlife behaviors in digital journals, uploading their observations into a shared database for use by other students online. Back in the classroom, students will return to the website to analyze data and answer their research questions.
"Our partnership with FSU on the Habitat Tracker project is an exciting opportunity for the Tallahassee Museum," said Russell Daws, the museum's executive director and CEO. "It further demonstrates our long-standing commitment to finding new and innovative ways to support and strengthen K-12 science education, especially in the natural sciences. The development of new technologies that encourage and support student efforts to capture, record, and share their scientific discoveries in the natural world should open up entirely new academic, professional and avocational opportunities for students and their teachers."
The Tallahassee Museum is a living museum that is home to a broad diversity of native animals, including endangered species such as the Florida panther and red wolf. The animals are on display in 11 large natural habitat areas that visitors can view from elevated boardwalks. The museum is located on 52 wooded acres where visitors can see and learn about native plants, butterfly gardens, native landscaping, wild birds, tortoises, frogs, saw palmetto, cypress trees, sinkholes and more.
In addition to encouraging students to participate in the process of scientific inquiry, the project showcases the use of information technology in museums, one of Marty's research specialties. The project will help the museum present the Big Bend's environmental, historical, and cultural stories in formats and technologies that are more interrelated and relevant to today's audiences. Once proven successful for K-12 students, it can easily be adapted to serve the broader needs of the museum's visitors.
Habitat Tracker draws upon more than a decade of prior research on mobile computing in museums to design and develop the learning systems the students will use to record, share and analyze their data.
"They'll ask their own questions about the natural world, recording observations while making appropriate inferences from them, and engaging in peer review by discussing their observations with other students in other classes," Marty said. "We need to find ways to get students excited about scientific research and hone their abilities to use scientific data to answer questionsŠ what better way than by combining online and mobile technologies with the wildlife and natural habitats at the Tallahassee Museum?"