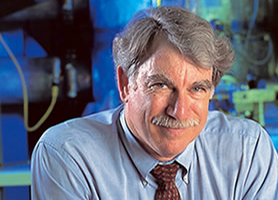 Florida State University and the Scripps Research Institute are taking steps to streamline scientific collaborations between the two organizations as they work together on biomedical research that could lead to treatments for a variety of diseases.
A joint cooperation agreement signed recently by officials from FSU and Scripps Florida will encourage and support research collaborations by reducing the time and paperwork required to share information. The agreement also will make it easier for the two to collaborate on filing patents for jointly developed technologies and to share revenues from commercialized innovations.
W. Ross Ellington, FSU's associate vice president for Research, hailed the agreement as a great opportunity to combine the resources and expertise of two of Florida's premier biomedical research institutions.
"Florida State University has great strengths in the area of biomolecular science," Ellington said. "We use powerful physical and computational tools to probe the structure, function and dynamic properties of large biomolecules and complexes of those molecules. Our strengths greatly complement the research and mission of Scripps Florida. There is a firm basis for collaboration.
"In fact," Ellington said, "a joint project already has reached fruition with the recent publication of a scientific report involving Professor Alan Marshall's mass spectrometry group at the National High Magnetic Field Laboratory here in Tallahassee."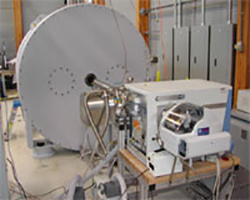 Marshall, FSU's Kasha Professor of Chemistry and Biochemistry and director of the Ion Cyclotron Resonance program at the magnet lab, worked with Scripps Florida researchers to develop and evaluate a robust new system for analyzing how drugs bind to proteins. Their groundbreaking work could speed the delivery of potential new drugs and improve existing ones. That research produced the first scientific paper generated by a partnership between Scripps and a Florida university when results were published in the journal Analytical Chemistry last February. (Read more about Marshall's work with Scripps Florida at www.fsu.edu/news/2006/02/15/drug.discovery/.)
The Scripps Research Institute is one of the world's largest biomedical research organizations. In 2003, Scripps was recruited to Florida by Gov. Jeb Bush and the Florida Legislature, along with Palm Beach County, who funded the development of a new facility in Jupiter. Now, as dozens of scientists set up shop at Scripps Florida's temporary facilities in Jupiter and plan a move to a 364,000-square-foot, state-of-the-art biomedical research campus, FSU and Scripps officials see many opportunities for collaboration.
"Researchers at FSU and Scripps will combine their knowledge and expertise to multiply the opportunities for making significant discoveries that will aid human health," said Polly Murphy, senior vice president for business and scientific services at Scripps Florida. "FSU brings to the table a broad expertise in the life sciences, and Scripps is developing a Florida-based, state-of-the-art infrastructure for biomedical research. This powerful collaboration will benefit the people of Florida and expand the body of scientific knowledge worldwide."
John A. Fraser, the executive director of FSU's Office of Intellectual Property Development and Commercialization, agreed.
"The ultimate beneficiaries of this collaborative relationship are the people whose lives will be improved by research, knowledge and, ultimately, the new technologies developed by researchers from both campuses," he said.
Scripps Florida (www.scripps.edu/florida/) previously entered into joint cooperation agreements with the University of Florida, Florida Atlantic University and the University of Central Florida.
The Scripps Research Institute is internationally recognized for its research into immunology, molecular and cellular biology, chemistry, neurosciences, autoimmune, cardiovascular and infectious diseases, and synthetic vaccine development. Scripps Florida specializes in drug discovery.