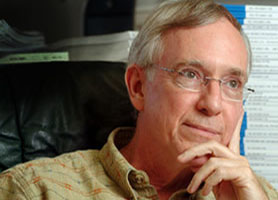 John G. Dorsey, the Katherine Blood Hoffman Professor of Chemistry and Biochemistry at Florida State University, has been selected to receive the 2006 Award in Chromatography from the American Chemical Society. The award will be presented in Atlanta in March, and a special symposium will be held in Dorsey's honor at that time.
The ACS' Award in Chromatography is the highest recognition in chromatography, a method of chemical separations used in chemical analysis and in the production of pharmaceuticals and fine chemicals. The award represents the culmination of 26 years of research by Dorsey and his graduate students, who have made many critical contributions to the field. Among the works cited in the award citation is his development of the Foley-Dorsey Equation, which was the first accurate method for calculation of the efficiency of chromatographic separations. That equation now is in commercial software packages and is taught in
undergraduate and graduate chemistry textbooks.
"Professor Dorsey also has made many important contributions to the chemical understanding of how chromatographic separations work," Naresh Dalal, chairman of FSU's department of chemistry, said. "For the past 100 years, such separations have been largely empirically based."
Dalal added that the Award in Chromatography "is indeed one of the most coveted national/international awards in analytical chemistry. To have this honor bestowed on a member of our faculty is tremendously exciting."
Dorsey has graduated 52 Ph.D. students, who are now leaders in industry, government and academia. Since 1999, he has served as editor for the Journal of Chromatography, the oldest, largest and most cited journal in the field.
Dorsey joins Professor Alan Marshall as the only other current FSU chemistry-department faculty member to have received an ACS national award. Previous FSU chemistry faculty members who have received ACS national awards are Emeritus Professors Gregory Choppin, Leo Mandelkern and Ray Sheline.