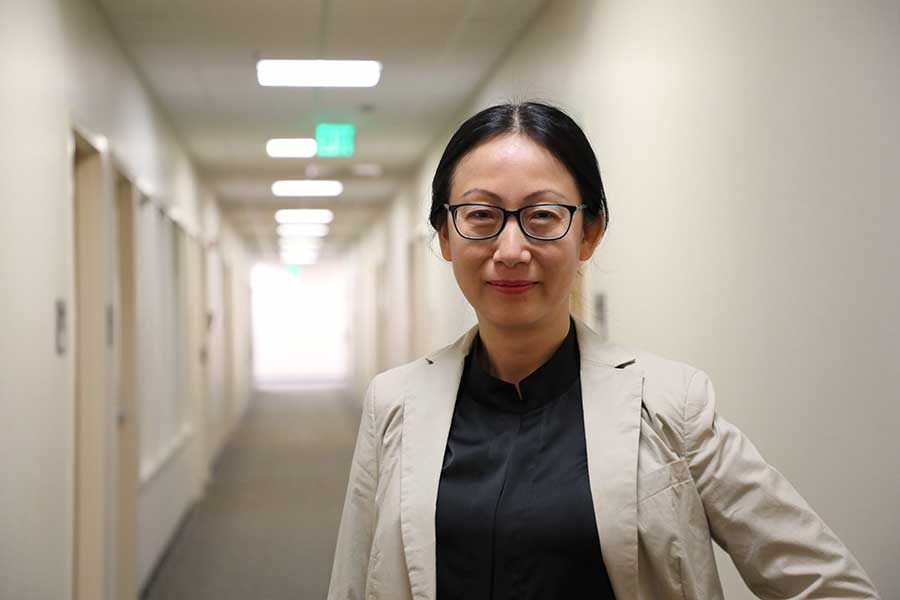 A Florida State University researcher has been awarded $5.7 million to conduct two research studies that will give scientists a better understanding of the brain mechanisms surrounding post-traumatic stress disorder and pain, paving the way for safer, more effective treatment options.
Associate Professor of Psychology and Neuroscience Wen Li has received a five-year, $1.9 million grant from the National Institute of Mental Health and a five-year, $3.8 million grant from the National Institute of Neurological Disorders and Stroke to conduct the work.
Li, whose research on the brain's sensory cortex and its role in processing fear was published earlier this year in Trends in Cognitive Sciences and The Neuroscientist, said the NIMH grant will allow further investigation into the importance of the sensory cortex in the brain's fear system, and the role of this system in patients afflicted with PTSD.
"As our sensory model of PTSD represents a significant leap from the prevailing model emphasizing dysfunctions of the amygdala-prefrontal-cortex circuit, it does feel good to have the recognition and trust from peers on the review board and the NIMH in general," Li said.
With the NIMH grant, Li's team will paint a clearer picture of the functional changes that accompany the disorder and affect the nervous systems of PTSD patients. The team will use advanced multimodal neuroimaging, which combines data obtained from multiple imaging methods to gather detailed information about brain dynamics, and neuromodulation, in which targeted delivery of an electrical current through the scalp is used to modulate brain activity.
From this framework, the team will explore new therapeutic treatment options for the disorder that leverage the brain's neural pathways.
"PTSD is highly debilitating and notoriously difficult to treat," Li said. "Through a brand-new theoretical model for the disorder, in combination with cutting-edge brain research, this work promises to bring forward groundbreaking discoveries to change the landscape of PTSD prevention and intervention."
The work is also closely related to a new clinical trial for PTSD focusing on transcranial alternating-current stimulation, a noninvasive brain stimulation technique used to enhance brain function and treat disease.
"Dr. Li has been doing amazing work in helping us better understand brain mechanisms that are central to decoding PTSD," said Distinguished Research Professor Brad Schmidt, chair of the psychology department and director of FSU's Anxiety and Behavioral Health Clinic. "This NIH-funded project involves cutting-edge technology with simultaneous neuroimaging techniques and neural stimulation that will allow her to investigate a novel model of PTSD. If successful, this project will point us toward new treatments for PTSD."
In addition to PTSD, Li's work focuses on another global health concern — pain. The National Institutes of Health confirm that pain, particularly chronic low back pain, is a leading cause of disability worldwide. To date, few non-opioid pain medications have been developed and the overreliance on opioids for pain treatment has contributed to the ongoing opioid epidemic in the U.S.
The Substance Abuse and Mental Health Services Administration's 2018 survey found an estimated 1.2 million people in the U.S. ages 12 and older had an opioid-use disorder. NIH research revealed opioid-involved overdose deaths rose from 21,089 in 2010 to a staggering 80,411 in 2021.
With the $3.8 million grant from NINDS, Li and co-principal investigator Kong Jian of Harvard University will study how pain is processed in specific areas of the brain, with the goal of finding new, non-chemical treatment solutions to replace opioids.
"It is especially notable that this project will set the groundwork for the development of a non-addictive, easy-to-access, and low-cost treatment for pain, which promises wide applications especially in underserved areas and underprivileged populations," Li said.
The neural basis of pain involves changes in the function of the brain's thalamocortical, or TC, circuitry, the main route of communication between the senses, including pain sensors, and the cerebral cortex. This can show up as abnormal spatial and temporal dynamics of brain activity in the TC circuitry. To date, spatial and temporal dysfunctions in the TC circuitry have only been examined independently, preventing the fundamental understanding and effective intervention of this important pathology of pain.
"Pain is a complex and significant public health issue. Conventional treatments such as the use of opioids can lead to detrimental outcomes," Schmidt said. "This grant from NINDS explores an alternative pain pathway as well as an alternative form of treatment involving brain stimulation. If successful, this research could offer new ways of treating pain without some of the negative consequences associated with some drug interventions."