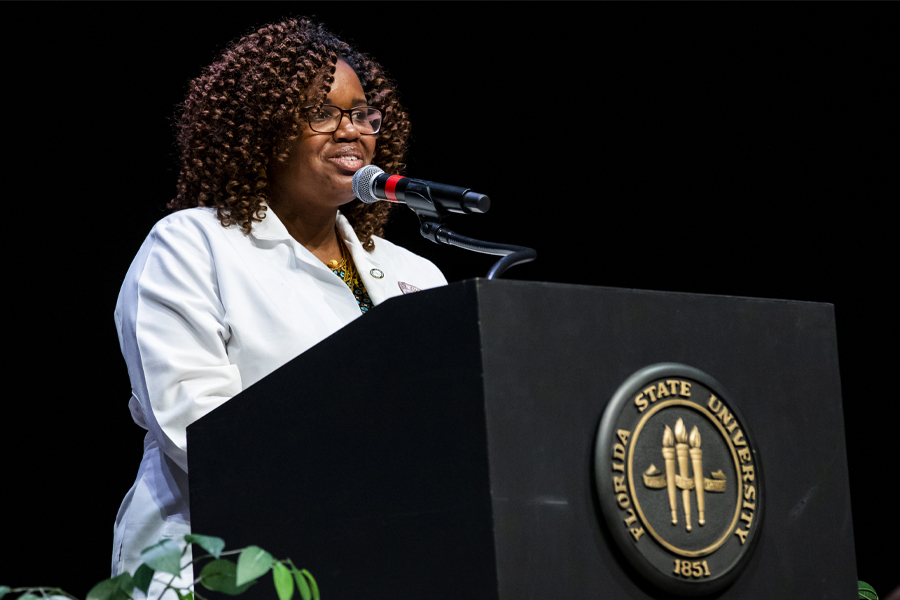 As a physician, educator and mentor, Dr. Shermeeka Hogans-Mathews is looking for ways to expand her influence.
She's doing just that with a year-long fellowship from the Society of Teachers of Family Medicine (STFM).
STFM named Hogans-Mathews as a recipient of its Leadership through Scholarship Fellowship, which offers training and mentorship for early-career faculty members from minority backgrounds underrepresented in medicine. One of 14 recipients nationally, she will benefit from a tailored curriculum focused on developing scholarly writing skills for academic advancement and leadership.
An assistant professor with the Florida State University College of Medicine's Department of Family Medicine and Rural Health since 2018, Hogans-Mathews also practices family medicine as a clinician at FSU PrimaryHealth. In addition, she mentors master's degree students in the college's Bridge to Clinical Medicine program and medical students in the Summer Research Fellowship Program.
"There is a scholarly component of academia that helps give you that regional, national or international stature or standing that you hope to obtain as you advance up the academic ladder toward leadership," she said. "This fellowship will help provide support, mentoring and education and will cultivate the skill set that I need in order to make sure my skills in scholarship are top-notch."
Hogans-Mathews' academic and leadership skills were on display throughout her time as a medical student at the College of Medicine. A member of the M.D. Class of 2015, she was inducted into the Gold Humanism Honor Society and was the recipient of the FSU Mission Award.
She completed her final year of residency at Ascension St. Vincent's Family Medicine Center in Jacksonville, Florida, as chief resident.
"Dr. Hogans-Mathews has demonstrated leadership since I first came to know her as a first-year medical student in 2011, and this has grown and blossomed over the years," said the College of Medicine's Dr. Daniel Van Durme. "She has continued to lead as a chief resident and now as a faculty member. I am confident that this fellowship will add further polish to her skills and that her peers in the program will gain from her participation."
Hogans-Mathews recognized that there was room for "some cultivation" in the areas of research and scholarly writing, which led her to apply for the STFM fellowship.
"We focus so much on learning the medicine, learning the people skills — being compassionate and empathetic — that we don't realize that we have the aptitude, if we develop it, to be scholars," she said. "My biggest hold-up was just a lack of confidence, or a fear of the unknown in those areas. I decided to take the leap and apply for this program so I could develop that confidence, that skill set, to publish my research and learn how to help others do the same."
As a resident, Hogans-Mathews set a goal of becoming an assistant department chair or associate dean. Recently, she has become more interested in mental health for both patients and physicians, the latter of whom suffer from high rates of burnout and suicide.
"I've really become interested in doing national presentations," she said. "I was recently accepted to present at STFM on promoting wellness while tackling perfectionism, shining the light on the inner critic. I hope over the next few years to navigate a path as a leader in physician wellness, specifically regarding perfectionism."
The STFM Leadership through Scholarship Fellowship was funded through an American Board of Family Medicine Foundation grant. Fellowship recipients will regularly participate in workshops and mentor meetings — both in person and virtually — through May 2023, culminating with the STFM Annual Spring Conference.