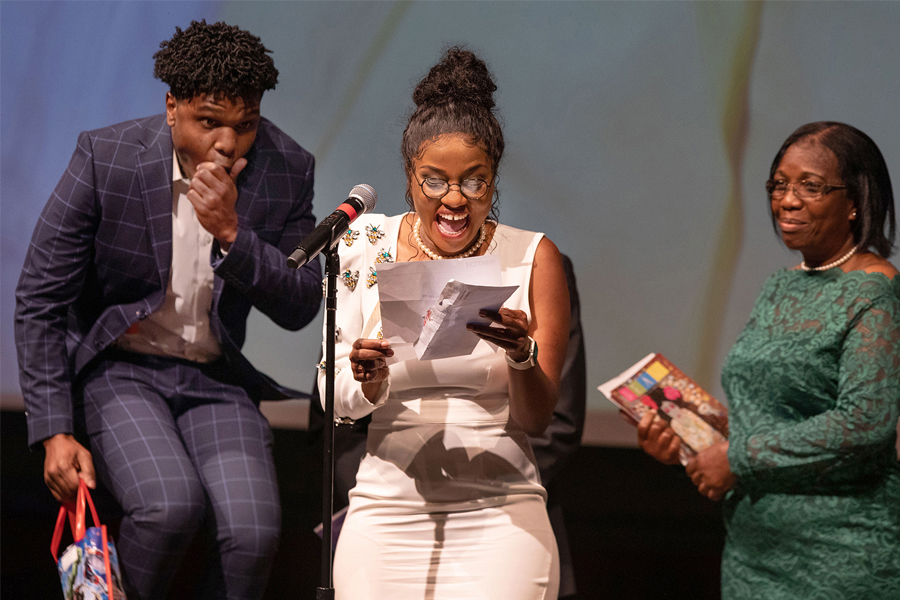 Graduating students in the Florida State University College of Medicine's M.D. Class of 2022 received notification today of where they will enter residency training this summer. The Match Day ceremony took place at the Ruby Diamond Concert Hall for the first time since 2019, after two years of virtual events.
"These students showed tremendous resilience to complete their clinical education during the time of a worldwide pandemic and are being rewarded by matching with top residency programs across the country," said College of Medicine Dean John P. Fogarty. "We are very proud of how our students matched. We know they are well prepared to enter their residency programs during this unique and challenging time."
Of the 119 students who registered in the matching program, 61 (51% of the graduating class) matched in a primary care specialty, which includes internal medicine, family medicine, pediatrics and obstetrics-gynecology. The most popular specialty overall was internal medicine, where 26 students (22% of the class) matched. The second-most popular choice was family medicine, with 15 students (13%) matching in that specialty.
Other students matched today in anesthesiology, emergency medicine, neurological surgery, neurology, ophthalmology, orthopedic surgery, pathology, physical medicine and rehabilitation, plastic surgery, psychiatry, radiology (diagnostic), surgery (general) and urology.

Five students matched in Tallahassee, and four matched with residency programs sponsored by the College of Medicine.
Forty-five students matched in Florida, where the state has placed an emphasis on adding new residency programs to keep up with the demand for more doctors.
The residency match, conducted annually by the National Resident Matching Program, is the primary system that matches applicants to residency programs with available positions at U.S. teaching hospitals. Graduating medical students across the country receive their match information at the same time on the same day.
Click here for information about current and past Match Day results.
Click here to see where past College of Medicine graduates are practicing.