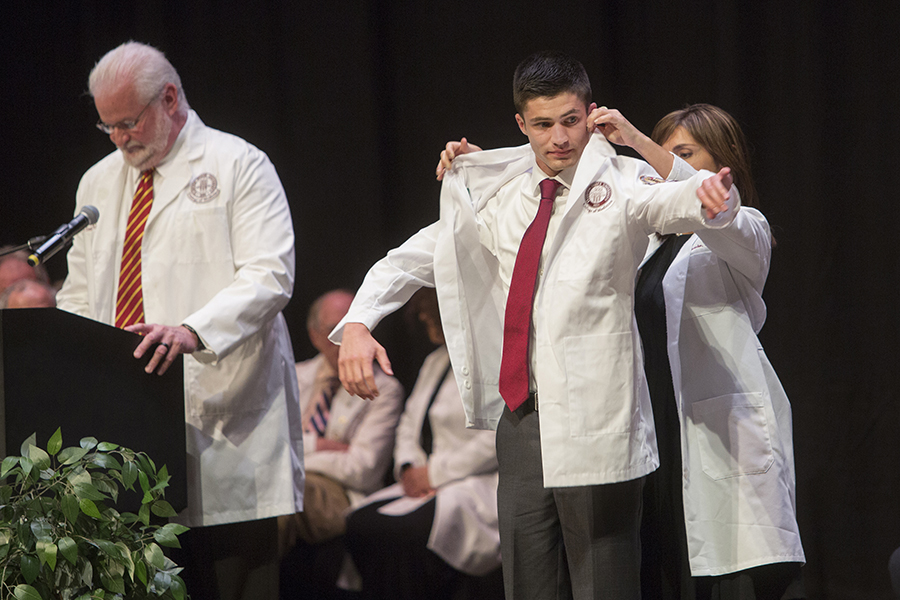 A Florida State University medical student will help continue the mission of a Tallahassee physician whose life was cut tragically short.
Medical student Jimmy Brown, who grew up in the Panhandle town of Hosford (population 704), has made a lasting impression of small-town humility and compassion with the Tallahassee physician-faculty members who taught him the intricacies of patient care over the past few years.
Brown is the first recipient of the Nancy Van Vessem, M.D. Memorial Scholarship, established to honor the local health care and community leader whose life ended in a shooting at a Tallahassee yoga studio in 2018.
"Dr. Van Vessem dedicated more than 20 years of her career to improving health care in Tallahassee and the surrounding area," Brown said. "I was eager to apply for this scholarship when I found out it was intended to further her life's work. My career goals fit in perfectly with Dr. Van Vessem's mission. By easing my student debt, this scholarship will make it far easier to pursue a primary-care career in the Panhandle."
Van Vessem was an internist and chief medical officer at Capital Health Plan. She also served as an early faculty member and one of the first clerkship directors in internal medicine at the FSU College of Medicine. She used her considerable influence to advocate for the new medical school — designed to produce physicians who practice patient-centered health care, especially through service to elder, rural, minority and underserved populations.
"We all knew Nancy as a relentless fighter who was focused on improving health and wellness in her community," said John Hogan, president and CEO of Capital Health Plan. "As an internist and CMO for Capital Health Plan for more than 20 years, she was a champion for quality and affordable health care for all, bringing national recognition to CHP for those efforts."
The scholarship gives preference to FSU medical students who commit to residency training in general internal medicine or outpatient geriatrics and plan to return to practice in Leon, Gadsden, Wakulla, Jefferson, Calhoun, Liberty or Franklin counties.
"We are very pleased and honored to award the first Van Vessem scholarship to a local student and humbled by the opportunity to support Dr. Van Vessem's goals through the physicians we produce," said FSU College of Medicine Dean John P. Fogarty. "This scholarship recognizes her contributions and advances her legacy to develop high-quality internal medicine and geriatrics physicians for our local area."
Today is Match Day for more than 20,000 graduating medical students nationally who will find out where they will be doing residency training over the next three to seven years. Brown learned during a virtual ceremony that he will be training in internal medicine at Tallahassee Memorial Hospital.
He already knew his residency training would be just the first step in working his way back home. Now, he gets to do his graduate medical education in familiar surroundings.
"I want to see patients in the outpatient setting and continue to follow them when they are admitted to the hospital," Brown said. "The strong doctor-patient relationships that this model generates is appealing to me. I want to pursue that model in the Florida Panhandle where I was born and raised. Here, I can form those strong doctor-patient relationships with my neighbors."
If Brown's teachers are correct, his neighbors will be grateful.
"Many faculty noted that Jimmy's nature and professional interactions consistently displayed compassion and grace," said Sandeep Rahangdale, an internist and dean of the College of Medicine's regional campus in Tallahassee. "His attending physician in nephrology called Jimmy 'a gem of a person' and said he has the caring and character that all doctors should embody — interested, engaged and curious."
Brown, excited to finally learn where he will be training for the next three years, said he's looking forward to practicing in the Panhandle.
"Dr. Van Vessem was concerned that this area, my home, is experiencing a growing shortage of internal medicine doctors who practice primary care, and my goals include helping to address that need," Brown said. "I hope to emulate Dr. Van Vessem in dedicating my career to improving health care in this area."