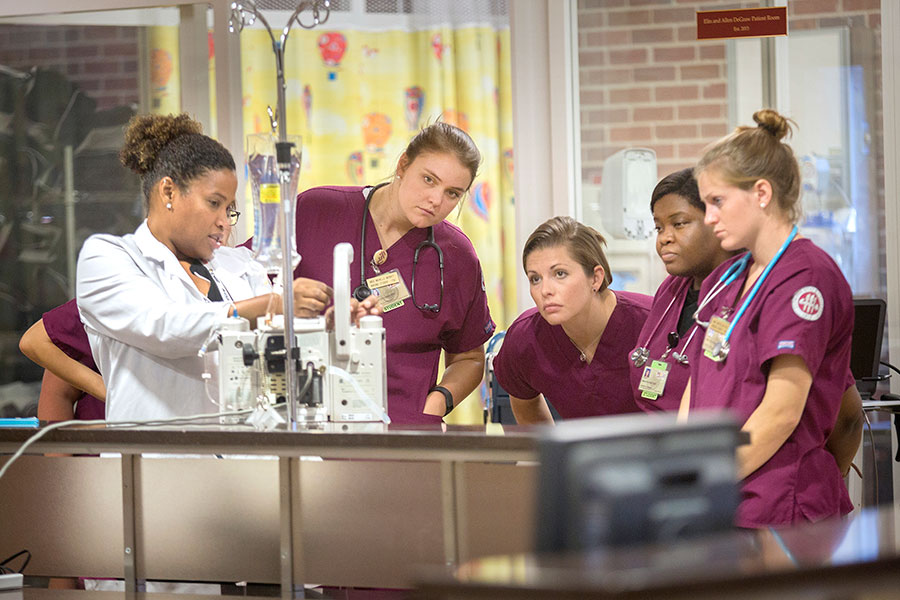 Instead of celebrating the end of rigorous core learning at the College of Nursing's emblematic pinning ceremony last week, graduating nursing students at Florida State University are bracing to face the COVID-19 pandemic and preparing to hit the ground running as they start their careers.
When FSU's classes moved to remote delivery in March due to the pandemic, the college moved its clinical and lab activities to virtual or simulation learning environments, forcing students to prepare for work on the frontlines from a distance.
"The need to be prepared for a variety of situations has never been more important than it is at this time of uncertainty," said Lauren Kendall, teaching faculty II and director of community outreach. "Things look very different for them than they've ever looked for any of our graduates."
While the clinical aspect of their education may have been abbreviated, nursing students have continued to focus on service. Ellis Daugherty, senior class president for the College of Nursing, said her classmates were feeling a sense of restlessness due to being barred from entering hospitals as student nurses, which prompted them to think of other ways they could help.
When commencement was moved to a virtual format and students left campus, this spring's graduating class was forced to cancel their Senior Nursing Banquet. The class decided to donate the $1,100 they had raised for the Senior Nursing Banquet to Second Harvest of the Big Bend and FSU's Student Emergency Funds.
"In our minds, if we couldn't help physically, this was the next best thing," Daugherty said. "We realized this was a great idea as many people don't have the financial ability to support relief efforts like Second Harvest of the Big Bend and the FSU 'Save our Students' campaign. As future nurses, we felt there was no better way to honor our future profession than donating."
Kendall was proud of her students for making the donation.
"It was wonderful that they decided to shift that to the community, and I know that it will have a huge impact," she said.
Kendall also has coordinated volunteer opportunities for nursing students with Second Harvest of the Big Bend, as well as Second Harvest of Tampa Bay and Second Harvest of Central Florida.
"Second Harvest has Personal Protection Equipment (PPE) that they're providing to their volunteers as they do food preparation, so that's been an easier way for students to be able to have those volunteer opportunities," Kendall said. "We've focused away from the 'nursing' realm so that students can still serve their communities and give back."
Some students have been hard at work sewing masks for the college's health care partners. The College of Nursing provided Kendall with funding to sew masks for accelerated nursing students who are going to be in clinicals this summer, and she plans to make 100 masks for employees at the Home Instead Senior Care facility.
"We need to have the awareness as health care providers that we need the appropriate tools to safely care for our patients, because if we don't, then we're putting ourselves at risk to be unable to care for them when they get sick," Kendall said.
That's a big reason why the College of Nursing donated more than 2,000 PPE items to its local health care partners Archbold Memorial Hospital, Capital Regional Medical Center and Tallahassee Memorial Healthcare.
"We inventoried everything we had and put together our anticipated needs for the summer and fall semesters," Kendall said. "The rest of our supplies we donated to our clinical partners, because that's where we put our nursing students, and we know their need for supplies."
The donation included 1,400 pairs of gloves, 250 pairs of shoe covers and 700 isolation gowns.
"I have an SUV, and I couldn't see out of my back window once I picked it all up," Kendall said.
While it is an unprecedented situation, Kendall expressed confidence that FSU's graduating nurses are more than ready to serve using their strengths, passions and expertise.
"I have no doubt our students are prepared," she said. "They're going to be able to go out and focus on being leaders and developing ways to be creative with their practice. The field of nursing has now taken a different focus for our senior students, and it could not be any more meaningful or powerful for them to take their drive and passion and use it to impact patient care, because we need it now more than ever."
Daugherty, who will begin her career this summer at Ascension Sacred Heart Emerald Coast Hospital in Miramar Beach, Florida, said she feels confident that her education at FSU has prepared her to serve during these unusual times.
"I couldn't have asked for a better nursing education than the one I received at Florida State University," Daugherty said. "Our instructors care deeply about our success as nurses and always push us to be better. I feel like the standard of excellence that the FSU College of Nursing sets has prepared us to be knowledgeable, efficient and independent thinking nurses. I have full confidence in the clinical and critical thinking skills that the FSU College of Nursing has taught me and my classmates. We will carry the FSU spirit with us and remain unconquered in this new and scary situation."
For more information about the FSU College of Nursing, visit nursing.fsu.edu.