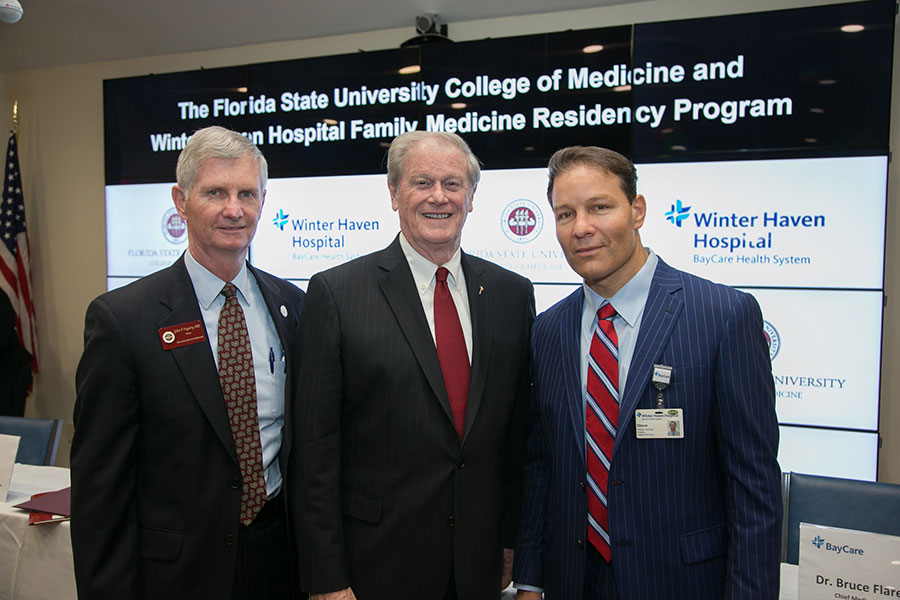 The Florida State University College of Medicine and Winter Haven Hospital today announced plans for a new family medicine residency program in Winter Haven — a rural and medically underserved community east of Lakeland and about 45 minutes southwest of Orlando.
It fits with the College of Medicine's mission to be responsive to community needs, especially through service to elder, rural, minority and underserved populations.
One way the college accomplishes that mission is by consistently producing graduates who choose primary-care specialties. Another is by working with hospital partners around the state to develop more residency programs, increasing the potential for Florida M.D. graduates to remain in the state for their required graduate medical education (GME).
Numerous studies have shown that physicians most often end up practicing where they complete their residencies and, in many cases, fellowships.
"Bringing medical residents here for their training in family medicine significantly increases the ability of Winter Haven Hospital and others in this community to recruit future physicians," FSU President John Thrasher said at today's announcement.
Thrasher also noted that FSU College of Medicine alumni already are practicing in nearby medically underserved communities in Arcadia, Clermont, Lithia, Lakeland, Plant City, Riverview and Seffner. More than 60 FSU medical alumni are practicing within 50 miles of Winter Haven, he said.
Florida State and Winter Haven Hospital next will work together to hire a program director while initiating the application process with the Accreditation Council for Graduate Medical Education (ACGME). The length of the accreditation process and other preparations will make it likely that the program's first residents won't arrive until 2020.
The three-year program is expected to admit six new residents each year for a total of 18 residents. In addition to receiving in-depth training in the field of family medicine, the residents will train and provide care in a community with significant needs for more primary-care physicians. According to the Florida Department of Health, Polk County currently has 50 primary-care physicians per 100,000 residents, below the state average of 77.
Polk County commissioners recently voted 5-0 to use $3.7 million from the county's indigent health-care fund to help finance a clinic where the residency program will be based at Winter Haven Hospital.
"The College of Medicine really was created to address Florida's physician workforce crisis — to create more doctors for local communities in need," said John P. Fogarty, a family physician and dean of the FSU College of Medicine. "It has long been known that most physicians end up practicing near where they do their residency training.
"As I traveled across the state visiting our regional campuses in 2008 after I arrived, I heard many hospital CEOs ask the same question: 'What can you do to help us start residency programs?'
"They knew this was the best way to 'grow your own,' to encourage them to stay when their training was done."
As the program's academic sponsor, the FSU College of Medicine will provide advice and guidance for both the development and management of the new residency program. FSU already sponsors a family medicine residency program at Lee Health in Fort Myers, internal medicine and emergency medicine programs at Sarasota Memorial Hospital and internal medicine and general surgery programs at Tallahassee Memorial Hospital. The college also sponsors a dermatology residency program and fellowship at Dermatology Associates of Tallahassee.