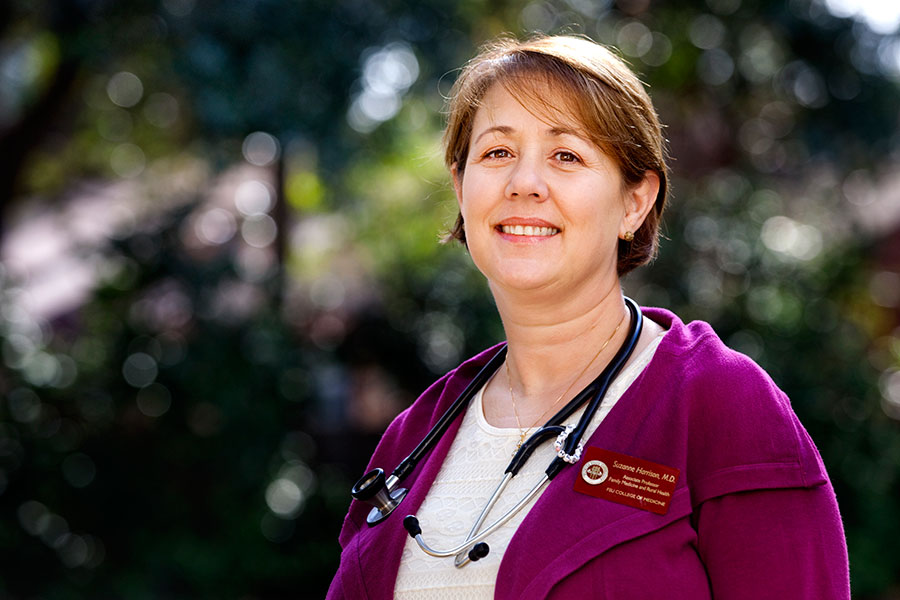 Suzanne Harrison, who knew from early childhood that she wanted to become a physician and later discovered the joys of teaching medicine, is beginning a yearlong adventure in national medical advocacy.
On April 1, she'll become president of the American Medical Women's Association. AMWA (pronounced AM-wah) has 6,000 dues-paying members and has been around for more than 100 years.
"The mission is to advance women in medicine and to improve patient outcomes in women's health," said Harrison, professor and education director in the College of Medicine's Department of Family Medicine and Rural Health. "But that can mean lots of things to lots of different people.
"We've got one group who are staunch advocates of reproductive rights. Then you've got other people who are more interested in women's career advancement. And then you've got this other faction – to which I belong more significantly – and that's humanism in medicine and making sure that we're all treating each other with respect."
Harrison has been faculty sponsor of the campus AMWA chapter for about a dozen years. In that role, she routinely encourages students to seek national leadership roles in the organization.
"One day, maybe in 2010, one of them asked me, 'Do you chair any committees at the national level?' And I thought, 'Oops. Maybe I should role-model this behavior instead of just telling people to do it.' So I ran for the board, and I joined some committees, and that's how it all happened. I found this group of women physicians of all specialties. That's the beauty of AMWA – it focuses on mentoring. Mentorship for students, residents, each other. It just felt like home."
Harrison is impressed by the young women entering health care – but sometimes dismayed that they don't know more about women physicians' continuing workplace struggles.
"When I started at FSU, I had all of these female students around me who seemingly didn't understand that we were still the underdogs," she said. "They would see that women were admitted at about the same rate as men – but they weren't understanding that we're still paid less, still not advancing in our careers at the same rate. All of those issues are still ever-present."
Harrison's service has been both local and national. In Tallahassee, for example, she serves on the Leon County Domestic Violence Fatality Review Team and for 10 years operated a Refuge House clinic for survivors of domestic violence. Nationally, she was the founding chair of AMWA's Physicians Against the Trafficking of Humans.
In the medical school, she teaches everyone from pre-med students to first- through fourth-year students to residents. As evidence of the ways in which she nurtures students, she received AMWA's Exceptional Mentor Award, as well as a "Class Mom" certificate from the Classes of 2015 and 2016.
"Dr. Harrison has been an incredible inspiration for me throughout medical school," said third-year student Emily Harlan, who was the College of Medicine's AMWA president last year. "She has taught me clinical skills, leadership skills and life lessons, sometimes all in the span of a single conversation."
During the past year as president-elect, Harrison got a closer look behind the scenes at AMWA. Now she has her priorities set for the coming year.
"The first is one that often gets ignored, and that is the logistics of managing people and making sure that they work well together and engage in projects that are meaningful for everyone," she said. "Without people feeling like they're part of the team, we're not going to get anything done.
"Another big challenge is figuring out how to respond to some of the issues that confront us in a way that people can hear us and work with us, and trying to be creative about how to do that. Given our current political environment, we have to really pay attention to the human-rights aspect of it – which has always been important for me, but it's more important right now than ever. We don't always do a real good job of figuring out how to say things so that others can hear them. I'm going to be trying to work with people who can help me with that.
"Also, I want to really increase the diversity within AMWA. There's a big sense of inclusion but not a lot of purposeful effort to improve diversity."
More highlights from Harrison's career:
She earned her M.D. at the University of Washington School of Medicine.
In 2009, she received the Faculty Council's Guardian of the Mission Award.
In 2010, she received the Hippocratic Award from the graduating class.
In 2013 she was named Volunteer of the Year at Refuge House.
In 2015, she was inducted into the Gold Humanism Honor Society.
She annually leads a medical outreach trip to rural Nicaragua.
"Despite being involved in many different areas, she never neglects her passions," Harlan said. "She has the natural qualities of a leader. She inspires passion, involvement, and empowerment. I am so excited to see her lead AMWA."
"I have no doubt," said second-year student Sara Ardila, a student division regional director with AMWA, "that she will continue to inspire medical students all around the nation."