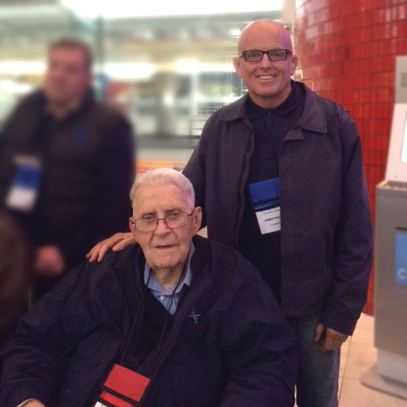 A Florida State University nursing professor recently served as a guardian for a 93-year-old veteran during an Honor Flight last month.
Jim Whyte, director of the Veteran's Bachelor of Science in Nursing program and a veteran himself, made the trip to Washington, D.C., alongside retired USAF Colonel Robert Jones, a veteran of World War II, Korea and Vietnam, on April 9.
Honor Flight's mission is to transport veterans to Washington, D.C., to visit memorials that are dedicated to honoring veterans' service and sacrifice at no cost to them.
"I wanted to participate in Honor Flight because I want veterans to get the respect and honor they deserve for giving so freely of themselves in service to their country," Whyte said.
Col. Jones, a resident of Winter Park, Fla., and retired U.S. Air Force fighter pilot who started out in the Army Air Corps during World War II, also served during the Korean conflict and Vietnam.
"Col. Jones had a lot of medical needs and could not walk," Whyte said. "I was essentially his private duty nurse for the entire day."
Whyte and Jones departed Orlando at 5 a.m. and returned at midnight the same day. They visited the World War II Korean, and Vietnam War memorials, the monuments for each individual service and attended the change of watch at the Tomb of the Unknown Soldier.
Guardians play a very important role in facilitating the dreams of veterans to see the memorials built in their honor. Their responsibilities include flight preparation, making sure boarding passes and IDs are available, distributing honor flight T-shirts and getting veterans through airport security and safely boarded on the flight.
Whyte remains in contact with Jones and plans to continue their friendship.