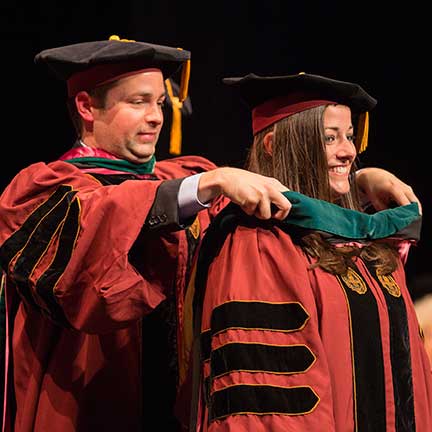 One by one the graduates crossed the Ruby Diamond Concert Hall stage Saturday morning, under the watchful eye of Dean John Fogarty and President John Thrasher, just as they'd rehearsed it — until it was Elizabeth Coughlin's turn. Everything stopped. She looked stunned, as in: "Wait a minute. What's going on?"
Then alumnus Joda Lynn was called to the front of the stage. Back in 2000, he was declared the first student accepted by the brand-new FSU College of Medicine. Today, he was enlisted to help celebrate another milestone: Coughlin was declared the 1,000th College of Medicine student to receive her M.D., and he was there to "hood" her. That is, to stand behind her and outfit her with the ceremonial hood that marks the transition from student to alumna.
For a young medical school, it was a big deal. And it was one of numerous moments that made the morning unforgettable for a roomful of 119 grads, plus faculty members, staff members and wildly cheering relatives and friends.
Now the newly minted M.D.s will make the journey from fourth-year veterans at medical school to first-year rookies at their residency programs. Commencement speaker and Department of Clinical Sciences Chair Ricardo Gonzalez-Rothi prepared a whimsical bag of special items to ease that scary transition. First item?
"A packet of attitude-adjustment powder," he told the grads. "Dissolve in liquid and drink twice daily. A good attitude is the most indispensable item. Without it you are destined to fail miserably. You will not be happy, and others will be unhappy with you. Things are bound to happen to you and to your patients that you have not expected, some of which you can't change. If you cannot change what happened, it is always in your power and under your control to change your attitude about it. Remember that."
Two months ago these students learned which residency program would be their home for the next three or more years, depending on their specialty. More than half of them are pursuing primary care. More than 40 percent matched in Florida, thanks in part to residency programs the College of Medicine has established with partners throughout the state. Whether in Florida or not, the students matched in top programs – including Columbia, Dartmouth, Wake Forest, Yale and many more.
After praising their performance on various standardized exams, Fogarty said: "It is clearly no surprise that you matched at outstanding residency programs. I continue to hear great things from more and more program directors about how good FSU students are and how to get more of you in their programs."
Fogarty noted the rich diversity of the class.
"More than 20 percent of you were admitted through College of Medicine outreach programs, resulting in a remarkable degree of diversity: 14 percent of your class is black and 14 percent Hispanic," he said. "Since you've arrived, we have consistently been ranked one of the Top Ten medical schools for Hispanics by Hispanic Business. In the 2015-16 AAMC Datebook, the College of Medicine is tied for fourth among all U.S. medical schools for African-American enrollment, trailing only the three historically black medical colleges."
Class President Alejandro Chavarriaga, who entered the College of Medicine through the Bridge outreach program, shared a variety of memories and issued several challenges to his classmates.
"I challenge us to stand up for our patients, take ownership of their care and help them get through their worst day, even if that's saving them from themselves," he said. "Remember our journey that got us here today. Remember all the people who prioritized us, advocated for us, believed in us and took a chance on us. Let's never forget their investment in us, and let's pay it forward with our patients. As doctors, this is our job; but as human beings, this is our calling."
Chavarriaga, who's pursuing general surgery, got a big laugh at the end with this line: "Remember, if you're ever in need of someone to take care of a gallbladder, appendix, hernia or basically anything that will require general anesthesia, I'm your man!"
When the diplomas were handed out, regional campus deans took turns standing behind the grads onstage and hooding them. Exception: Twelve grads were hooded by a physician parent or uncle, a sibling alum or a spouse alum — and one, of course, was hooded by Lynn.
An enthusiastic ovation greeted the three graduates heading into military medicine.
The day before the ceremony, 42 students were honored at an awards assembly. Sarah Evans and Sasha Kaiser led the class with five recognitions each. Clinton Dunn captured the equivalent of the MVP award: the J. Ocie Harris Outstanding Student Award.
Sprinkled among the new M.D.s were 12 younger faces, the master's students graduating from the Bridge Program. Ten days later, they'll be back in school — this time as members of the College of Medicine's Class of 2020.
The college now has 1,029 alumni.
View the graduation video: http://lectures.med.fsu.edu/tcs/?id=1ED5D836-B2A8-4306-89F0-74313EE8BA0F