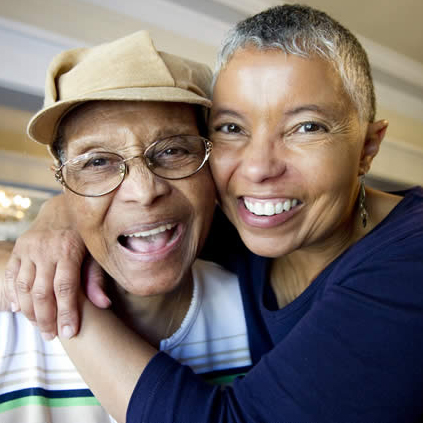 Alzheimer's disease and other dementias are tough on patients but also on caregivers, especially African-Americans. Now Rob Glueckauf, a Florida State University College of Medicine professor, is offering a new approach that he hopes will benefit numerous caregivers. And it's free.
His two-year project is called ACTS 2 (African-American Alzheimer's Caregiver Training and Support Project 2). In past years, ACTS 1 demonstrated that telephone counseling is just as effective as in-person counseling in relieving caregivers' stress and providing support. Telephone counseling is also more convenient, especially for those with transportation challenges.
ACTS 2 builds on those results by providing caregivers the opportunity to receive skills-building and support from lay pastoral care workers from the African-American faith community. Among adult caregivers who experience emotional distress, African-Americans are twice as likely as non-Hispanic whites to seek assistance from faith ministries. They perceive less of a stigma there than in seeing a professional counselor.
"Our hope is that ACTS 2 in the long term will become part of the fabric of health-related services offered by the African-American faith community," said Glueckauf, a faculty member in the Department of Behavioral Sciences and Social Medicine.
For his project, he's seeking African-American adults who provide direct care for a loved one with dementia at least six hours a week and have a strong need to reduce their own stress. They'll be involved in the program for 12 to 14 weeks and receive up to $90 for their participation.
Trained faith community workers, or "lay pastoral care facilitators," will help the caregivers with:
Communicating effectively with doctors and family members.
Dealing with their loved one's difficult behaviors, wandering and general safety.
Giving medicines.
Managing the stresses and worries of caregiving.
Increasing their self-care, rest and relaxation.
"We have developed an intervention led by African-American facilitators who share a faith orientation and family values similar to those of caregivers, thus breaking down barriers to access — and using telephones so that the participants don't have to go anywhere," Glueckauf said. "It's delivered when, where and how they want it. We're trying to evaluate its effectiveness."
He hopes to get more than 100 caregivers to participate in the project, which is receiving financial support from financial adviser Dave Groves, VALIC Inc. and the FSU Center for Brain Repair. Glueckauf knows the need is great.
"Alzheimer's is an epidemic," he said, "and it disproportionately affects minorities. Providing skills and support to African-American dementia caregivers is what the ACTS 2 staff, lay pastoral care facilitators and I feel led to do and is an important mission of the FSU College of Medicine."
Any qualified caregivers who are interested should call the project staff at (850) 274-4945 (in Tallahassee) or (866) 778-2724 (toll-free).