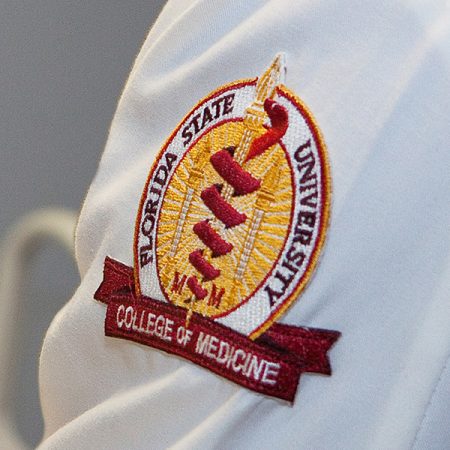 Florida State University is a partner in the $17.5 million award that the University of Florida has received to translate medical research discoveries more quickly into healthier Florida communities.
The four-year project is funded by the National Institutes of Health's Clinical and Translational Science Award (CTSA) program, which supports a nationwide network of about 60 CTSA hubs.
Although FSU and UF have been research partners before, this project is noteworthy.
"Our partnership with the University of Florida in this award is a significant milestone for both institutions," said Michael Muszynski, associate dean for clinical research. "For the FSU College of Medicine, it further codifies the functionality of our Clinical Research Network involving all of our statewide regional and rural campuses, and it carries the enormous potential of two major Florida universities working together to bring the latest medical advances to a very expansive and diverse patient demographic."
The budget is not formalized between FSU and the UF Clinical and Translational Science Institute, but Myra Hurt, senior associate dean for research and graduate programs, estimated the College of Medicine's share of the CTSA award will be more than doubled by institutional support and will total several million dollars.
Hurt said the College of Medicine's network of community physicians for teaching its students is a unique advantage.
"We have about 2,500 community physicians on our clerkship faculty, and they collectively have more than 2 million patients, representing a demographic cross-section of Florida's population," she said. "That's where our students do their clinical training, and that's where we're building research."
For several years the College of Medicine has been growing its Clinical Research Network, which provides clinical, translational and behavioral research opportunities for clinicians, faculty and students in real-world, community-based settings. Projects in that network often involve overlapping partnerships with UF and the OneFlorida Clinical Research Consortium.
"We have developed a partnership with UF through research that was initially funded in 2010 by the state of Florida, through something called a cluster award, in which we did research that included a study about diagnosis of minor athletic concussions," Hurt said. "We did a pre-test on student athletes that tested their abilities to reason. So later, if they get a head injury, we'll have a baseline of 'Are they reasoning in the same way?' This would help to diagnose minor concussions that may go unnoticed and allow them to be treated. That's a simple change in the athletic physical that's translating research about the athletic physical into prevention and treatment of concussions."
Hurt mentioned another common health problem that will figure into this latest round of translational research.
"Several health leaders in our community would look for us to be exploring ways to try to get blood pressure problems under control with people in all populations in this region as one of our primary goals," she said. "It seems simple, but it is actually one of the biggest problems that we have in terms of disease and death.
"Another grant that we have received with UF, and the University of Miami, is from the Patient-Centered Outcomes Research Institute, or PCORI. The point of that is to create a database that will link de-identified information about human disease all over the state of Florida. The goal is to create an archive of data of that type linked all over the United States, so that if you want to look at concussion, you can find all kinds of information from all kinds of ages, ethnicities, locations and more. That will greatly enhance our ability to understand chronic diseases and conditions of the brain that have been very hard to treat."
Although research was mostly a solitary undertaking for centuries, Hurt said, those days are going fast.
"I'm an example of a scientist that was trained to do research on my own," she said. "I would develop my own approaches, work with students and postdoctoral associates solitarily in my lab, and keep all my research secret until it was published. A lot of people still work that way. But the whole move of research is to become more collaborative, interdisciplinary, between institutions. That's the future."