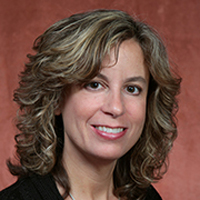 The Florida State University College of Medicine will join the National Network of Depression Centers to continue its work on the diagnosis, treatment and scientific discovery in depression and bipolar illness.
The NNDC invited the College of Medicine to become an associate member in recognition of the college's efforts to expand the expertise for these illnesses.
"This is a tremendous opportunity for FSU to join a national collaborative effort to tackle depression and related mental health disorders," said Heather Flynn, associate professor and vice chair for research in the medical school's Department of Behavioral Sciences and Social Medicine.
"Progress in eliminating one of the world's most disabling conditions has been very slow over several decades, mostly due to people working on the problem independently. By joining forces in a growing network of centers across the country we can bring something unique to the effort to accelerate the pace of eradicating this disease."
The NNDC's mission is to develop and foster connections among members to use the power of a network to advance scientific discovery and to provide stigma-free, evidence-based care to patients with depressive and bipolar illnesses.
The NNDC brings together experts from across the nation who:
Actively pursue initiatives in education, research, clinical care delivery and community outreach
Engage in interdisciplinary collaborations both within their home institution and across the network
Identify opportunities for multi-site studies and emerging partnerships
"By uniting in a collaborative network, we bring the best minds together, regardless of their location, to advance the state of the science in the field of mood disorders," said John Greden, founding chair of the NNDC. "To best leverage the expertise of our growing network, we are about to launch our new Mood Outcomes program.It combines both a clinical care program with research programs addressing depressions and bipolar illnesses.Only by doing both will we simultaneously help people while generating the data needed to develop personalized treatment breakthroughs. Florida State University will greatly contribute to both efforts."
The FSU College of Medicine uses a community-based medical education program with regional campuses and clinical training sites throughout Florida. Nearly 2,500 community physicians are part of the clerkship faculty and a number of those have expressed interest in the college's Clinical Research Network (CRN).
The CRN has the potential to include a diverse mix of patients from all socioeconomic backgrounds that is representative of Florida's population.
"With our primary care focus and distributed model of education, we will be able to expand this national network into rural and underserved areas and promote a much more integrated approach between primary care and mental health services," said John P. Fogarty, dean of the FSU College of Medicine. "We are excited to be part of this program and look forward to highly productive research collaborations."
"To date, research on causes and treatments for mood disorders has mostly included specialty-care patients at single centers and sites, which has limited its impact," Flynn said. "Access to such a broad and diverse patient population is vital in order to develop a better understanding of mental health and other health issues that can be relevant to many different kinds of people."
Flynn and the FSU College of Medicine have been involved in developing new models of clinical health research collaboration by creating the capacity for researchers to share data and to use standard tools for mental health measurement across diverse sites.
Specific projects that are planned and underway focus on improving care for perinatal mental health, sex differences in depression, as well as factors related to suicide. The College of Medicine also will be collaborating with university departments, community organizations and other Florida universities to strengthen the potential and impact of the NNDC affiliation.
The FSU College of Medicine joins a network that includes centers of excellence affiliated with Brigham Women's Hospital, Harvard Medical School, Duke University, Emory University, Johns Hopkins Medical School, Mayo Clinic, Medical University of South Carolina, Menninger Clinic and Baylor College of Medicine, Stanford University, Weill Cornell Medical College, Massachusetts Medical School and the universities of California-San Francisco, Cincinnati Lindner, Colorado-Denver, Illinois at Chicago, Iowa, Louisville, Michigan, Pennsylvania and Texas Southwestern.