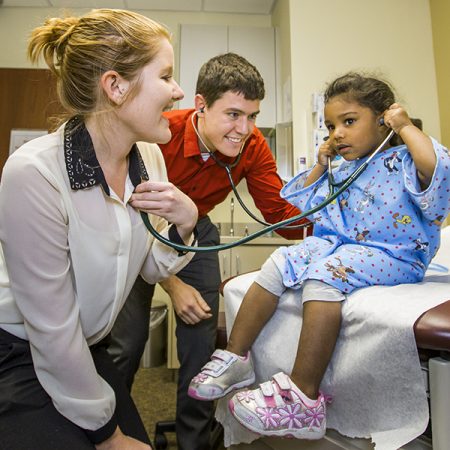 The Florida State University College of Medicine is ranked seventh on a just-released list of the nation's top 10 producers of family physicians.
The American Academy of Family Physicians compiled the ranking based on a three-year average reflecting the 2012, 2013 and 2014 classes. Of the FSU College of Medicine's graduates, 16.2 percent pursued family medicine residencies.
"The FSU College of Medicine has only 10 graduating classes to date, and we are just beginning to demonstrate our excellent outcomes in producing the kinds ofdoctors that Florida needs," said Dean John P. Fogarty, a family physician. "We have great graduates matching at wonderful programs throughout the country and a true commitment to primary care and patient-centered, community-based care. Recognition as one of the top 10 schools for producing family physicians is a great affirmation that our focus is working."
The United States is facing a shortage of primary-care physicians, according to AAFP President Robert Wergin.
"Although we've seen incremental growth in student interest in family medicine, those increases will not meet the skyrocketing demand for family physicians," Wergin said in an AAFP press release. "These top schools are outstanding examples of the commitment to building the nation's family physician workforce."
The AAFP tracks the success of U.S. allopathic (M.D.) and osteopathic (D.O.) medical schools in producing doctors who select family medicine residencies, and the journal Family Medicine publishes the results annually.
The FSU College of Medicine was also in the top 10 in 2007, 2008 and 2009.
"This reflects a commitment by the entire school to meet the legislative mandate that created our school with a focus on primary care and our mission of meeting the needs of communities, especially the underserved populations, across the state," said Daniel Van Durme, also a family physician, and chair of the Department of Family Medicine and Rural Health. "From outreach programs in rural areas that begin before college, through admissions policies that focus on characteristics likely to produce family doctors through our innovative curriculum, this award reflects positively on the entire College of Medicine."
According to the AAFP, in addition to providing preventive and first-encounter care, family physicians diagnose and treat patients with conditions ranging from a sore throat to multiple, complex conditions such as diabetes combined with congestive heart failure. Research has shown family physicians are the usual source of care for more than six in 10 patients with anxiety, depression or diabetes; six in 10 patients with cancer; and nearly six in 10 patients with heart disease.