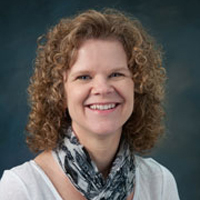 Two Florida State University professors have been selected as fellows of the Association for Psychological Science — an honor given only to the most prominent scientists in the discipline.
Jeanette E. Taylor, professor and chair of the Department of Psychology, and Chad Van Iddekinge, the Synovus Research Associate and associate professor of management in the College of Business, were among 26 scholars from around the world who were awarded fellow status this year.
"Recognition as an APS Fellow is a significant achievement," said Margaret Wright-Cleveland, director of the Office of Faculty Recognition at Florida State. "It marks not just one accomplishment but the excellence of a scholar's entire career. FSU faculty and students gain much by working with APS fellows such as Professor Van Iddekinge and Professor Taylor."
Fellow status is awarded to APS members who have made sustained outstanding contributions to the science of psychology in the areas or research, teaching, service and/or application. Candidates are considered after 10 years of postdoctoral contribution.
Taylor's research focuses on substance abuse and personality disorders in adults and reading problems as they relate to antisocial behavior in children. She joined Florida State in 2000 after earning her doctorate in clinical psychology from the University of Minnesota-Twin Cities in 1999 and completing her clinical internship at Western Psychiatric Institute and Clinic.
"I feel honored to have been named a fellow of the Association for Psychological Science because of the esteemed company it puts me in within the field of psychology," Taylor said.
Van Iddekinge, who came to Florida State in 2005 after working as a senior scientist at the Human Resources Research Organization, earned a doctoral degree in industrial and organizational psychology from Clemson University. His focus is on understanding and improving the way organizations hire and evaluate employees, and he has served as a consultant to several large corporations and federal agencies.
"Being elected as a fellow of APS is a very special honor for me," Van Iddekinge said. "It represents the culmination of a lot of hard work, the guidance of various mentors and colleagues and the support of my family. To know that my peers believe my research and work with organizations have had an impact is truly humbling."
APS is the premier international organization solely dedicated to the advancement of psychological science. APS works diligently to increase support for psychological research and to promote the use of science-based psychology in the development of public policy.
With the selection of Taylor and Van Iddekinge, Florida State now has 21 current faculty members who are fellows of the Association for Psychological Science.