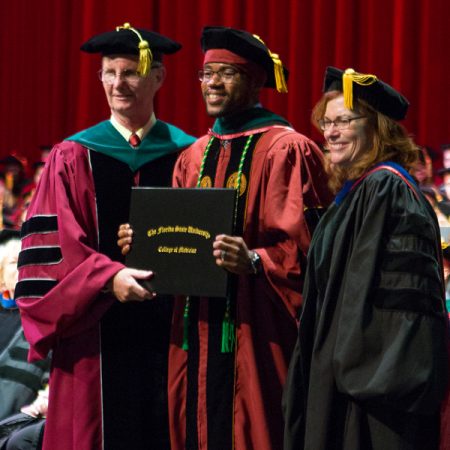 The May 17 commencement ceremony for the College of Medicine's Class of 2014 featured a number of firsts:
The first alumni hooding sibling graduates.
The first alumnus hooding his wife.
The first selfie taken onstage immediately after hooding.
The first Honors Medical Scholars graduating from the College of Medicine.
The first grad crossing the stage with his right knee resting on a wheeled support because his foot was bandaged.
The first time we've named a Professor Emeritus.
The first time we've had a whopping 12 military graduates — and incorporated their promotion into the graduation ceremony.
And the first time a grad has been unable to attend because his family was threatened first by floods and then by fires.
"You have become the exemplary physicians that we hoped you would be," Dean John Fogarty told the 115 graduates at the start of the two-hour ceremony. "I am very proud of each and every one of you."
This was the College of Medicine's 10th graduating class, and the med school's total number of alumni now stands at 795.
This class was a model of diversity, Fogarty noted. A quarter of the graduates came from backgrounds identified as underrepresented in medicine. Its enrollment of Hispanic students was triple the national average for U.S. medical schools. And this year, as in the past four years, the College of Medicine ranked above the 90th percentile nationwide in producing black or African-American graduates.
Fogarty also praised the Class of 2014's commitment to service: "Almost one-third of your class did global health work — Nicaragua, Panama, Haiti, Ecuador, Mexico and Ghana … more than any other class in our history. Your long-term work in Nicaragua and Panama has built relationships that will last long past your graduation."
Add to that the caliber of these students' academic work, he said, and it's no surprise that they were snatched up by outstanding residency programs.
"You matched at these programs both because of your incredible accomplishments and the reputation of this young school to produce wonderful graduates," Fogarty said. "Show them what you learned by how you act and treat your future patients. I've been told by hospital executives that they can pick out an FSU College of Medicine student."
Commencement speaker Lynn Romrell, associate dean for medical education and longtime anatomy teacher, had been selected by the students themselves. Known as the college's official statistician, he offered the graduates three numbers to ponder:
1,443 — the number of days they were in medical school.
133 — the number of exams, quizzes and other tests they endured.
1,003 — the average number of patient encounters they were privileged to have.
Class President Brett Thomas got a standing ovation for his 10-minute reflection on the past four years. This was a poignant passage: "We ultimately learned that a 'good pathological case' always came with a price. Sometimes it was a left-behind elderly spouse or a stroke survivor, once a social butterfly, now unable to speak. Somewhere during our third and fourth years, we began to understand the weight of the responsibility we'd soon be carrying. But if not for these experiences, we wouldn't have received clarity on our specialty choice, met our match or gained the experience to care for our future patients."
Amid all the garnet caps and gowns were a dozen graduates dressed in black. Those were the master's students graduating from the Bridge Program. Ten days later, they'll be back in school — this time as members of the College of Medicine's Class of 2018.
Now, back to those "firsts":
The siblings were Zarna Dahya (M.D., '11) hooding brother Vishal; Luis Hernandez (M.D., '09) hooding brother Lorenzo; and Brandon Mauldin (M.D., '12) hooding brother Justin. "There can be no better recommendation for a med school," Fogarty said, "than to have a student or graduate encourage their sibling to follow them to FSU."
Souhail Karram (M.D., '13) hooded his wife, Mariana Borges Karram.
The Hernandez brothers, mentioned above, took that selfie.
The Honors Medical Scholars were Keerti Dantuluri, Joe Hernandez and Judy Lin.
Sam Borelli had the bandaged foot. He needed a procedure and wanted to get it taken care of before he begins his residency.
Charlie Ouimet, Ph.D., in Biomedical Sciences, received the Professor Emeritus honor.
Ten of the 12 military graduates were on hand, and they got perhaps the loudest ovation of the morning when they marched onstage in uniform.
One of the military grads who couldn't attend has had a recent string of bad luck. Jimmy Westbrook, a former Navy helicopter pilot, was flooded out of his Pensacola rental home — but not before he managed to save his neighbors from the fast-rising water.
Afterward he, his wife and their two kids moved earlier than they'd planned to Southern California — where he'll be in Camp Pendleton's family medicine residency program. He had plane tickets to Tallahassee and had planned to attend graduation.
"Unfortunately," he wrote in an email, "these fires on Camp Pendleton are not well contained, and I am unable to leave my family for graduation in the midst of another potential crisis. We are staying real with relatives who live in a safe zone. At this time, our house is fine but the fire on the base has consumed 6,000 acres and is only 20 percent contained. I'm sorry to miss graduation, but obviously this takes priority. We will be watching online and cheering on my fellow classmates as they get their diplomas."
Amarateedha Prak, one of his classmates from the Pensacola Regional Campus, made sure he wasn't forgotten. She carried a life-size photo of his face and frequently waved it over her head.