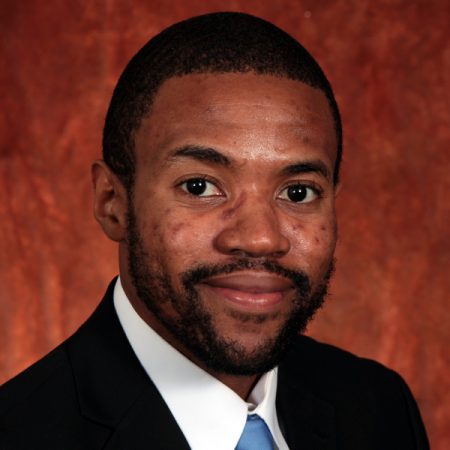 Growing up in rural Wakulla County, Brett Thomas began thinking of becoming a physician as he watched his older brother struggle with sickle-cell anemia. When he was accepted into the Florida State University College of Medicine, Thomas wrote that he was confident he would be trained to serve the community with empathy, beneficence and compassion.
Four years later, Thomas is ready to address his classmates as president of the College of Medicine's Class of 2014. And he's ready to serve.
In return for promising to work at least three years in an underserved area, Thomas and classmate Alyson Lewis each were chosen to receive $120,000 to help repay their academic loans — thanks to the National Health Service Corps (NHSC) Students to Service Program.
They will receive four $30,000 payments, beginning this summer and continuing each summer for the first three years of residency. After they complete their residency, they must engage in three years of full-time or six years of half-time clinical practice at one or more NHSC-approved service sites in a Health Professional Shortage Area (HPSA) of greatest need.
Both say they intend to work in such a community in Florida.
Thomas and Lewis are part of the 10th class to graduate from the FSU College of Medicine. Their commencement ceremony takes place at 10 a.m. Saturday, May 17, in Ruby Diamond Concert Hall.
It marks the end of a remarkable five years at the medical school for Thomas, including the year he spent in the college's Bridge to Clinical Medicine Program. The Master of Science degree program was designed to expand the pool of successful medical school applicants from medically underrepresented, rural and inner-city communities.
During Thomas' year in the Bridge Program, he mentored middle and high school students who showed promise in math and science and were on a pathway to possible careers in health care.
He also completed a research project about contributing factors in the success of African-American men in medical school. He has presented his findings at a National Rural Health Association conference and at Mount Sinai School of Medicine, and his research was published in Academic Medicine, the journal of the Association of American Medical Colleges.
Thomas not only proved he belonged in medical school, he excelled academically and emerged as a natural leader.
In addition to being elected president by his classmates, Thomas was chosen to serve as a student teaching assistant during the summer after his first year of medical school. During his fourth year, he was inducted into both the Gold Humanism Honor Society and the Alpha Omega Alpha Medical Honor Society.
Gold Humanism honors medical students, residents, role-model physician teachers and other exemplars for demonstrated excellence in clinical care, leadership, compassion and dedication to service. It was created to elevate the values of humanism and professionalism within the field of medicine.
To be eligible for Alpha Omega Alpha, Thomas had to be in the top quartile of his class scholastically with demonstrated evidence of gifted teaching, leadership in academia and belief in the ideal of service to others.
"I always had a certain understanding that after medical school it was going to take diligence and financial responsibility to pay off my loans regardless of the chosen specialty and location," Thomas said of his NHSC award. "The fact that I can do something I'm passionate about and receive the financial assistance is absolutely amazing! My wife and I feel very blessed."
Associate Dean Helen Livingston nominated Thomas for the award.
"His service to the community, his fellow students and the College of Medicine is extraordinary. Despite all the accolades and accomplishments, Brett remains a humble and compassionate man whom I am proud to know," Livingston said.
"He will be one of our future leaders in medicine and one of our best practicing physicians.
Brett Thomas at a glance
President, College of Medicine Class of 2014
Residency: Family Medicine at Wake Forest University
Plans after residency: Return to Florida and work in a medically underserved community for a minimum of three years as part of the National Health Service Corps Students to Service Program
Honors during medical school:
Selected as student teaching assistant after first year of med school
Herbert W. Nickens Medical Student Scholarship – one of six awarded by the Association of American Medical Colleges for outstanding third-year medical students who have led efforts to eliminate inequities in medical education and health care
Honor Society of Phi Kappa Phi
One of 10 students nationally chosen as a Tylenol Future Care Scholar
FSU College of Medicine Dean's Award Scholarship
Leon C. Tully and Billy Tully Foundation Scholarship
American Medical Association Minorities Scholarship
One of 13 nationally chosen for the Minority Scholars Award from the American Medical Association Foundation, given to students committed to improving minority health
Gold Humanism Honor Society
Alpha Omega Alpha Medical Honor Society