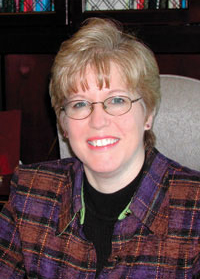 The Florida State University College of Nursing will increase its full-time enrollment and accelerate the graduation of family nurse practitioners with advanced education, thanks to a new, $1.4 million Affordable Care Act grant from the U.S. Department of Health and Human Services (HHS).
It is the largest single grant ever awarded to the college, which began educating nurses in 1950.
"Between now and 2015, this grant will provide a $22,000 annual stipend for two years to family nurse practitioner students who enroll full time in our Doctor of Nursing Practice (DNP) program and earn the degree," said FSU College of Nursing Dean Lisa Plowfield. "By reducing the financial burden of attending school full time, we'll enable more part-time students to graduate sooner. As a result, our students can expedite their entry or reentry into the healthcare workforce, armed with the advanced skills increasingly in demand but often in short supply."
A total of $323 million in Affordable Care Act grants were announced last week by HHS Secretary Kathleen Sebelius in a national push to help the states strengthen their health care workforces by increasing the number of primary health-care providers and improving access to care for underserved, disadvantaged or vulnerable populations.
Florida State's $1,425,600 award comes from the Affordable Care Act's Prevention and Public Health Fund, which is administered by the Health Resources and Services Administration (HRSA), a division of HHS.
The grant will support the College of Nursing's participation in the Advanced Nursing Education Expansion (ANEE) initiative, one of six Prevention and Public Health Fund programs. Nationwide, ANEE grants were awarded to just 26 institutions, including Florida State, which will use them to boost full-time enrollment in primary-care nurse practitioner and nurse midwife programs.
"HRSA administrators are relying on our Doctor of Nursing Practice program and others like it to expand advanced education opportunities for primary-care providers," Plowfield said. "We look forward to leading the way in our own state and beyond."
The state of Florida has many uninsured and under-insured residents and significant geographic disparities when it comes to access, Plowfield said. "While family nurse practitioner graduates from Florida State have already been helping to address those needs, this $1.4 million award ensures that even more help will soon be on the way."