Sociology Professor Jill Quadagno, one of Florida State University's most eminent scholars, has been elected a member of the prestigious Institute of Medicine (IOM) of the National Academies.
Quadagno, who holds the Mildred and Claude Pepper Eminent Scholar Chair in Social Gerontology, is one of 65 new members and five foreign associates of the organization. Election to the IOM is considered one of the highest honors in the fields of health and medicine and recognizes individuals who have demonstrated outstanding professional achievement and commitment to service.
"It is a great honor to be invited to become a member of the Institute of Medicine," she said. "I look forward to participating in the activities of this important organization and helping to advance its mission."
An internationally recognized expert, Quadagno is highly deserving of the IOM honors, said Dean of the College of Social Sciences and Public Policy David Rasmussen.
"Professor Quadagno is renowned for her work on aging, health and social policy issues, and her contributions to Florida and the nation are outstanding," Rasmussen said. "This recognition by the IOM is just the latest example of how she has brought attention, prestige and honor to Florida State University."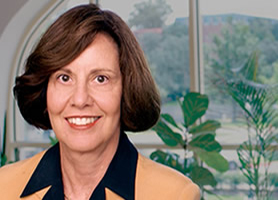 She is past president of the American Sociological Association and the author of more than 75 articles and 12 books on aging and medical sociology. In 1994 she served as senior policy adviser on the President's Bipartisan Commission on Entitlement and Tax Reform.
Quadagno was thrust into the spotlight with the publication of her most recent book "One Nation, Uninsured: Why the U.S. Has No National Health Insurance" (Oxford 2005), which was a best seller in medicine for 2005-06, according to YBP Library Services and was a finalist for the Distinguished Book Award of the American Sociological Association in 2006. She also received the Eliot Friedson Outstanding Publication Award in 2004 for her article, "Why the U.S. Has No National Health Insurance."
In 2007 she was elected to the Board of Directors of the National Academy of Social Insurance, and in 2009 she received the Leo G. Reeder Award for Distinguished Contribution to Medical Sociology from the American Sociological Association.
Quadagno began her academic career in 1977 at the University of Kansas, where she rose to the rank of full professor before coming to The Florida State University in 1987. She received her doctorate in sociology from the University of Kansas in 1976 and her master's from the University of California-Berkeley in 1966. She graduated Phi Beta Kappa from Pennsylvania State University in 1964.
The Institute of Medicine is unique in its structure as both an honorary membership organization and an advisory organization. Established in 1970 by the National Academy of Sciences, IOM has become recognized as a national resource for independent, scientifically informed analysis and recommendations on health issues.
New members of the IOM are elected by current active members through a highly selective process that recognizes individuals who have made major contributions to the advancement of the medical sciences, health care and public health.
With their election, members make a commitment to volunteer on IOM committees, boards and other activities. Projects completed during the past year include studies on the cardiovascular effects of secondhand smoke exposure, nutrition standards for the federal school meals programs, prevention and control of viral hepatitis, strategies to reduce rates of hypertension and decrease Americans' sodium intakes, and a major summit on integrative medicine.