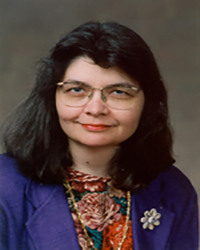 Michelle Bourgeois, a professor in Florida State University's department of communication disorders, has been named the recipient of the prestigious 2007 Barry Reisberg Award for Non-Pharmacologic Research, Theory and Clinical Practice.
The award honors an accomplished clinician and researcher for distinguished contributions to the field of non-pharmacologic Alzheimer's disease treatment and care. It is named for Dr. Barry Reisberg, clinical director of New York University's Aging and Dementia Research Center.
Bourgeois will receive an honorarium and all travel expenses for a trip in May to New York City, where she will be honored at an awards ceremony and present a lecture on her work with "memory books."
"It's a wonderful honor," Bourgeois said. "I've always thought such things were reserved for people at the end of their careers, and since I have no intention of retiring anytime soon, this is nice."
A book about her research, "Memory Books and Other Graphic Cueing Systems," will be available in the next few weeks from Health Professions Press.
Bourgeois' work furthers the premise that people with Alzheimer's and other forms of dementia don't necessarily lose their memories, just the pathways to retrieve them. Memory books and other aids, such as daily planners for patients in the earlier stages of the disease, help unlock memories.
"This award is a testament to her ground-breaking work helping people who have Alzheimer's, as well as the people who love them," said John Mayo, dean of FSU's College of Education.
A graduate of Georgetown University with a bachelor's degree in linguistics and French, Bourgeois earned her master's degree in speech and hearing sciences at the University of Washington and her Ph.D. in communication disorders at the University of Pittsburgh. She came to FSU in 1996.
The Reisberg Award and honoree's lecture are jointly sponsored by the Hearthstone Alzheimer's Family Foundation and Forest Laboratories.