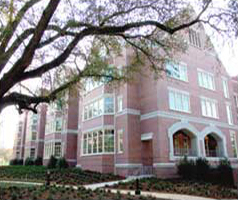 Thirty-five of the 36 students in the graduating Class of 2006 of the Florida State University College of Medicine have received notification of where they will enter residency training this summer after graduation.
Twenty of the 36 graduating students, or 56 percent, are entering residency in primary-care specialties, including family medicine, pediatrics, internal medicine and obstetrics/gynecology.
Other students matched in general surgery, orthopedic surgery, otolaryngology (head and neck surgery), anesthesiology, plastic surgery, aerospace/flight surgery and radiology.
The 36th member of the graduating class will be completing a Research Fellowship at the National Institutes of Health.
Nineteen of the students, or 53 percent, will remain in Florida for their graduate medical education. On average about 40 percent of students graduating from allopathic medical schools in Florida remain in the state for residency training, due in part to a limited number of available residency positions in state.
Of those matching outside of Florida, students matched in Georgia, South Carolina, North Carolina, Virginia, Kentucky, New York, Illinois, Nevada and Washington, DC. Three students matched in military programs.
The residency match, conducted annually by the National Residency Matching Program, is the primary system that matches applicants to residency programs with available positions at U.S. teaching hospitals. Graduating medical students across the country receive their match information at the same time on the same day.