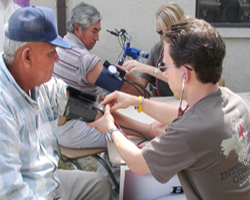 Florida State University medical students will work with the medical school's faculty to provide care for underserved populations and learn about cross-cultural medicine March 4-11 in Immokalee, Fla., the Republic of Panama and along the U.S.-Mexico border.
In addition to providing health services to communities with limited access to health care, these spring break medical outreach trips count as a one-week elective course through which medical students learn about the health issues of uninsured and culturally diverse groups.
A total of 29 students and 10 faculty members will be participating in the program this year.
In Immokalee, students will see patients at Collier Health Services Inc. and offer local health fairs for the migrant community. The students will stay at the Isabel Collier Read medical complex in Immokalee, which NCH Healthcare System plans to transfer to the FSU Foundation for the development of a rural medicine program.
A second group of students will visit McAllen, Texas, where they will serve the population on both sides of the U.S.-Mexico border in cooperation with the Lower Rio Grande Border Health Council and the Mexican consulate.
A third group will travel with faculty members to two sites in Panama, where they will receive assistance from FSU-Panama.
The students' medical outreach is supported by a $103,000, three-year gift from the Pfizer Foundation and more than $10,000 in proceeds from November's FSUCares 5K race. In addition, the Escambia County Medical Society contributed $1,000 to help pay for needed medications, and the Good Shepherd Catholic Church Youth Group in Tallahassee raised more than $1,500 in support of the students' efforts.