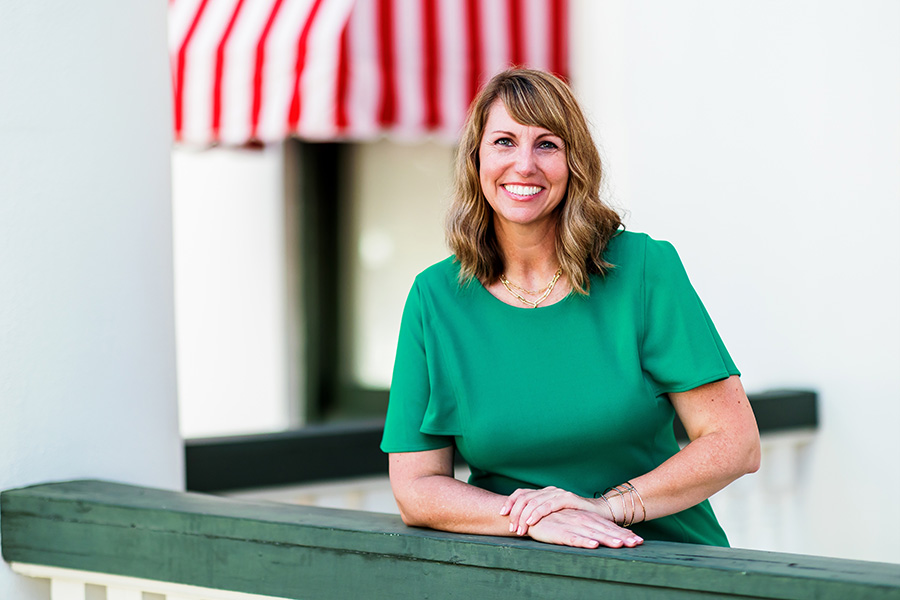 As part of its efforts to support the education profession, the Florida State University College of Education has awarded a three-year tuition waiver for an advanced degree to Melissa Matz, Florida's 2023 Teacher of the Year.
Matz, a seventh-grade math teacher at Lakeside Junior High School in Clay County, said the tuition waiver will help her "to have a greater impact on my students, colleagues and community."
The College of Education hailed the tuition waiver as another success for Project ElevatED, a college-based initiative to recruit, train and retain more educators in the workforce and recognize them for the important work they do.
"I am so proud of the work we've accomplished through Project ElevatED," said Damon Andrew, dean of the College of Education. "The profession of teaching is a cornerstone of our society, and nothing is more rewarding than supporting teachers, who work so hard for our children. I'm excited to help more teachers than ever before as we continue to expand Project ElevatED. We want teachers to know that the FSU College of Education is their beacon of support."
Project ElevatED, which launched in 2019, recently crossed the $2 million mark in scholarships awarded to students in the College of Education, and it now has awarded a total of $2.61 million.
The program also has prepared more than 1,200 professionals to teach in K-12 classrooms and delivered nearly 3,000 care packages to FSU alumni working in school districts across the state. Care packages include a Cimarron stuffed plushie, pencils, hand sanitizer, mask, and information about ElevatED/FSU College of Education, including a letter from the dean thanking the teacher for their service.
In addition, Project ElevatED won the prestigious John L. Blackburn Award for Academic Innovation from the American Association of University Administrators (AAUA) in June. The award, named after an administrator who worked at FSU in the 1950s, recognizes initiatives that "demonstrate creative solutions to common problems in higher education."
Project ElevatED maintains a multi-faceted approach to solving major challenges facing the profession of education in Florida.
"We're in a time when our nation needs more — and more highly qualified — PK-12 teachers, administrators and coaches," said Dan King, president and chief executive officer of the AAUA. "Project ElevatED is addressing this need through the development of creative and inspirational strategies to interest prospective students in teaching careers. The initiative is worthy of this high recognition because of what it has achieved in Florida, for Florida educators. But, even more importantly, it is worthy because of the programmatic vision that will stimulate other colleges of education to engage in similar educator-building endeavors. This is truly a remarkable model program."
The initiative also supports teachers and education professionals already in the field through access to professional development opportunities, recognition programs and more. Opportunities include several online programs that offer flexibility to teachers who aim to continue their education.
"Project ElevatED is a breathtaking series of innovations that required the efforts of all faculty and staff at the college and the dedication of its leadership," said Jerry Neuner, the AAUA Board of Directors' vice chairperson for awards, referring to the College of Education. "It clearly represents a full rethinking and rejuvenation of the relationship between the college, the state and the school districts."
Consider Matz. She was named the 2023 Florida Teacher of the Year by the Florida Department of Education. She thereby will serve as the Christa McAuliffe Ambassador for Education for one year and create greater public awareness of Florida's exceptional teachers and the education profession.
"I am so proud to represent the incredible educators throughout Florida, who have dedicated their lives to the success of their students and the next generation," she said. "I believe education is the key to empowering our communities and oneself, which is why I am so thankful to be awarded a tuition waiver to pursue a graduate degree from the Florida State University College of Education."
For more information about the FSU College of Education, visit education.fsu.edu. To learn more about Project ElevatED, visit education.fsu.edu/elevated.