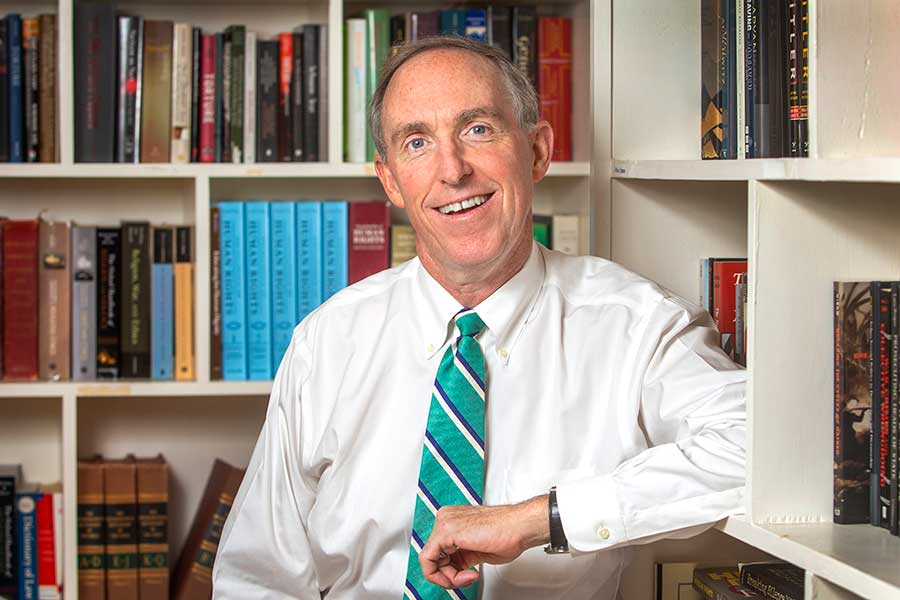 As the world recognizes International Human Rights Day Thursday, the Center for the Advancement of Human Rights at Florida State University is in the midst of commemorating its own milestone — its 20th anniversary.
Twenty years ago, funds from an anonymous donor helped found the center. From those beginnings steeped in anonymity, the center's work is now known around the world. 
It has become a resource for state, federal and international policymakers looking to bolster human rights laws, such as those surrounding human trafficking. And center staff and students play an integral role in helping victims of human rights violations both in the United States and across the globe rebuild their lives. 
"We began with the presumption that international human rights are just that: international," said Terry Coonan, who has served as the center's director since its founding. "The biggest change we've seen is that much of our work is now focused on human rights here in the U.S. There's greater attention on human rights violations we need to combat right here: human trafficking, the separation and detention of immigrant children on our border, issues like the death penalty, race and policing. It's fair to say that 20 years ago we didn't think as much about human rights issues in our own backyard."
In addition to the funding that helped launch the center, Coonan said credit for seeing it to fruition goes to FSU graduate and attorney Bob Kerrigan and the late FSU President Sandy D'Alemberte, himself a renowned human rights advocate and attorney. 
"Sandy immediately gave it support, and it was his and Bob's determination that the center should be interdisciplinary," Coonan said. "That was a unique idea. Most human rights centers are in law schools. Sandy and Bob believed human rights should inform the career tracks not just of our law students but of students throughout the university."
Coonan added: "Of course, being interdisciplinary is easy when you have great partners like we have across the university, including students and faculty in film, art and music therapy, communications, criminology, religious studies, social work, dance and the law school."
Coonan said the center's influence is increasingly felt across campus through that interdisciplinary mission. 
There are interdisciplinary human rights classes that aim to foster teaching and scholarship. Coonan teaches law classes in human rights and in human trafficking, as well as undergraduate human rights courses in the colleges of Criminology and Criminal Justice, Motion Picture Arts and Social Sciences.
The center also places students in internships worldwide, including refugee camps, child sex trafficking recovery programs, torture treatment centers, and international criminal tribunals. An important part of the center's mission is its support work done on behalf of nongovernmental organizations ("NGOs") at home and abroad.
"Hundreds of FSU students, including many from the law school, have done direct advocacy work with refugees, torture survivors, asylum seekers and trafficking victims," Coonan said. "In their work as interns, they have experienced the very issues and challenges that define the human rights field." 
The center also works with federal and state agencies on a host of human rights issues. These partners have included the White House, the U.S. Justice Department, the Florida Legislature, the Florida Office of the Attorney General and the Florida Department of Children and Families. The center's expertise in human rights, immigration law and policy and victim-based issues, such as human trafficking, have given it an internationally recognized profile.  
At heart, Coonan said, the center's mission remains one that is victim-based. Just this year it has helped refugee families from Syria and the Congo — two of the worst war zones in the world — find safe haven here in the United States as they qualified for permanent resident status with the center's legal help.
Vania Aguilar is a program manager who started working at the center the year after it was founded. In her time at the center, she's been key to helping more than 300 refugees and other human rights victims secure support services as well as getting their permanent residence.
"That's part of what makes the center so special and part of why I love it here," she said. "We see so many students come to us who find they love it too and decide they want to change the focus of their careers to work on assisting refugees, asylum seekers and victims of violent crime and domestic violence."  
Coonan said the center plans a 20th anniversary celebration as soon as the pandemic subsides.