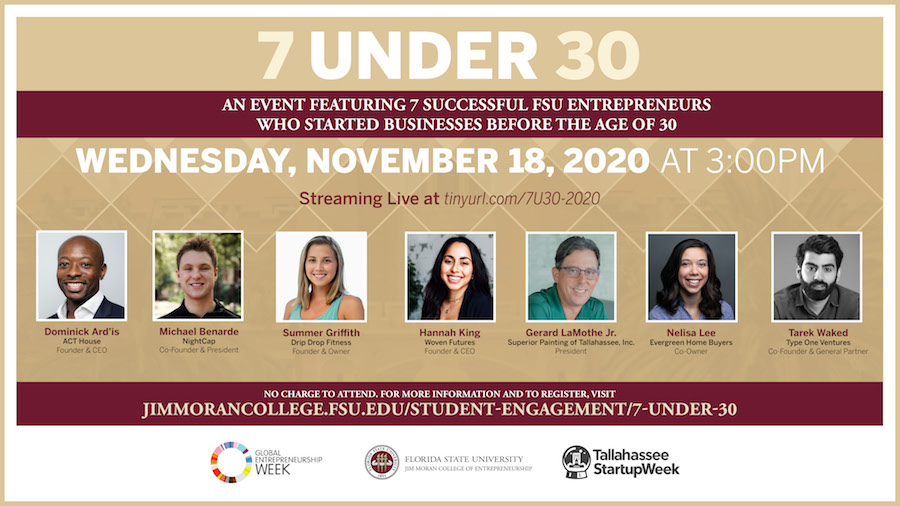 The Jim Moran College of Entrepreneurship at Florida State University is set to honor seven recent graduates who are making their mark as entrepreneurs. 
The annual "7 Under 30" event will take place at 3 p.m. Wednesday, Nov. 18. The event acknowledges seven successful FSU alumni entrepreneurs who started businesses before the age of 30. This will be the ninth year for the event, which takes place during Tallahassee Startup Week. 
Susan Fiorito, dean of the Jim Moran College of Entrepreneurship, said she was thrilled to acknowledge the success of this year's honorees. 
"We are proud and honored to welcome back to campus seven talented and accomplished entrepreneurial alumni," she said. "The businesses, products and processes they have created boost their local, regional and statewide economies and enrich the lives of all of us.  We are privileged to host them here at FSU as they provide inspiration and dedication to our students in following their dreams."
Due to COVID-19 restrictions, this year's event will be livestreamed. Each of the seven honorees is scheduled to speak and offer their perspective and experiences in starting and growing a business. All seven will participate in a Q&A session.
Those interested in viewing the festivities are invited to visit tinyurl.com/7U30-2020.
This year's 7 Under 30 honorees are: 
Dominick Ard'is
Tallahassee, FL
Founder & CEO, ACT House
M.S. Urban Planning, M.S. International Affairs
Grad Year: 2012
Organizations: Speaker of the Congress of Graduate Students, Student Government Association, Synoptikos Durp
Michael Benarde
Tallahassee, FL
NightCap
Co-Founder & President
B.S. Political Science
Grad Year: 2019
Current FSU M.B.A Student
Summer Griffith
Tallahassee, FL
Drip Drop Fitness
Founder & Owner
B.S. Retail Merchandising and Product Development, M.B.A
Grad Year: 2017
Organizations: Alpha Delta Pi, AATCC
Hannah King
Tallahassee, FL
Woven Futures
Founder & CEO
B.S. International Affairs
Grad Year: 2019
Organizations: HLSU, LEONES
Gerard LaMothe Jr.
Tallahassee, FL
Superior Painting of Tallahassee, Inc.
President
B.S. Psychology
Grad Year: 1998
Nelisa Lee
Jacksonville, FL
Evergreen Home Buyers
Co-Owner
B.S. Family & Child Sciences
Grad Year: 2011
Organizations: C.H.I.C.S., PeaceJam, Jumpstart
Tarek Waked
Los Angeles, CA
Type One Ventures
Co-Founder & General Partner
B.A. International Affairs with an emphasis in Economics
Grad Year: 2013
Organizations: Pi Kappa Alpha