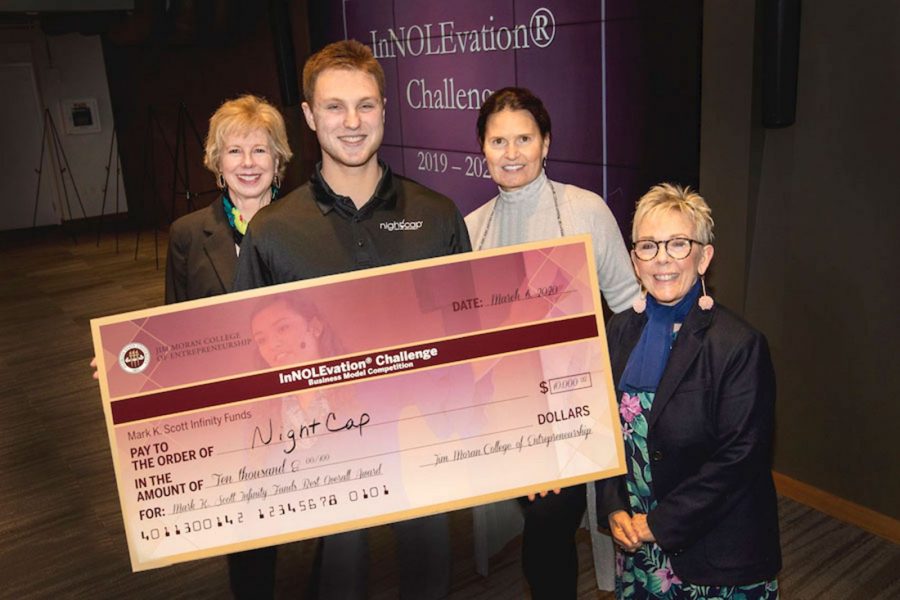 A device designed to prevent drinks from being spiked took top prize and a $10,000 award at this year's InNOLEvation® Challenge business model competition. The Jim Moran College of Entrepreneurship hosted the competition last month and announced the winners, who began their quest for top prize last September.  
NightCap, which won Best Overall (Mark K. Scott Infinity Funds Prize), was created by Michael Benarde, who graduated from FSU last December, and his 16-year-old sister, Shirah, from West Palm Beach, Florida. The idea came to them when they realized that drink spiking was a growing epidemic in our society and began thinking of ways to solve the problem. The NightCap is a simple protective drink cover that can be carried discretely in a scrunchie.  
"Every year the competition gets tougher, and it is exciting to see how many different colleges and majors these students represent," said Wendy Plant, Director of the InNOLEvation® Center for Student Engagement. "It's great that we can reward so many student businesses in the various categories, and the overall winner takes home the $10,000 Mark K. Scott Infinity Funds prize."  
 Other winners are:  
Jim Moran Challenge Social Venture Award: Aura Biotechnologies 

 

Spirit of Entrepreneurship Award: Sungrown Bakery 

 

Most Viable Award: Virtual Lens 

 

Most Scalable Award: Athlogic 

 

Most Innovative: AirWise 

 

Finalist: Sway Aid 

 

Finalist: JAMR Modular Music Workstation 

 
The annual InNOLEvation® Challenge provides students from all majors and all levels with the opportunity to gain valuable insight and experience in innovation and entrepreneurship. This business model competition focuses on identifying problems and potential solutions, building effective teams and precisely defining the assumptions of a new venture, testing those assumptions in the field, and then pivoting based on the lessons learned. The entire competition takes place over two semesters with students submitting parts of the business model canvas along the way. 
 
Workshops are designed to teach competitors about topics related to validating and creating a business. Entrepreneurs in residence and experts in different industries presented on emerging technologies, design thinking, prototyping, effective presentations, and determining costs and revenues.  
 
Moran officials credited the Business Law Clinic in Florida State's College of Law and Carr, Riggs & Ingram CPAs and Advisors, for helping students through the competition.  
 
Two of the businesses competing also were chosen to present at the ACC Competition and the Governor's Cup Competition. Virtual Lens was chosen to represent at the ACC Competition, while NightCap was chosen for the Governor's Cup Competition. 
 
For more information on the InNOLEvation® Challenge, visit https://jimmorancollege.fsu.edu/student-engagement/innolevation-challenge/.