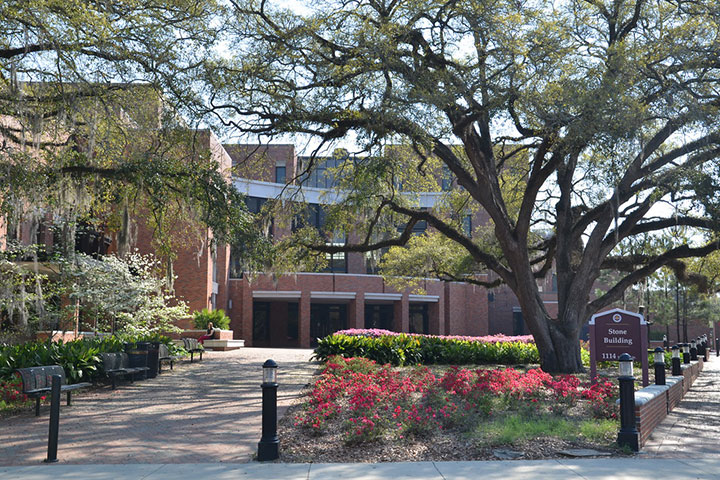 Florida State University's College of Education has launched Project ElevatED, a new initiative aimed at raising the profile of careers in education and recognizing education professionals around the state for the difference they make in the lives of students.
"Project ElevatED seeks to change the narrative around education careers and promote our programs as pathways to meaningful lives in the service of our students," said College of Education Dean Damon Andrew. "We can better serve our university and our state by providing better training, support and recognition of the teachers, counselors, administrators, coaches and other professionals who work with Florida's students."
Project ElevatED will kick off during halftime of the FSU-NC State football game Saturday, Sept. 28. In partnership with the Florida Department of Education and the Florida Association of District School Superintendents, FSU President John Thrasher and Andrew will honor the Florida Teacher of the Year, Principal of the Year, Assistant Principal of the Year, Superintendent of the Year and School-Related Employee of the Year on the field. All current and former education professionals in the stadium will also be asked to stand and be recognized for their important work in the education of Florida's students.
The initiative is designed to support the key influencers in the lives of Pre-K-12 students, whether they serve as teachers, school counselors, school psychologists, principals, superintendents, coaches, athletic directors or in other critical roles.
"Florida State University founded the first College of Education in the state, and for more than 100 years, FSU's College of Education has prepared some of the very best Pre-K-12 professionals in the history of Florida," Andrew said. "In preparation for the launch of Project ElevatED, we critically examined the educational support we provide to these professionals and added new programs as needed over time."
Within the past two years, the College of Education has launched online Ed.D. programs in educational leadership and policy and instructional systems and learning technologies, along with an online master's in curriculum and instruction focused on autism spectrum disorder. This fall, the college redesigned and relaunched the M.S./Ed.S. program in school counseling, as well as an online graduate certificate in coaching, which is available to degree-seeking students at FSU and the larger community.
"Each of these programs was designed to prepare Pre-K-12 professionals to overcome the challenges they face today and in the future," Andrew said. "For example, now more than ever, students need access to high quality school counselors. Students of today not only can face challenges at school, but also personal issues and struggles in their home life. School counselors are in a unique position to help students overcome these obstacles, and we hope our relaunching of this program will address this growing need."
As part of these new program launches, an Interdisciplinary Center for Athletic Coaching, known as FSU-COACH, is being designed to meet the growing demand for well-trained athletic coaches at all levels of competition, from school and amateur leagues all the way to professional organizations.
"For some people, a coach can make as much of a difference in their life as a teacher or even a parent," Andrew said. "Training the next generation of coaches will have a tremendously positive effect on the lives of students and society at large."
FSU-COACH will be led by College of Education Professor Tim Baghurst, a former professor at Oklahoma State University, where he helped develop the first-ever coaching science undergraduate and graduate certification programs in the state of Oklahoma.
As part of Project ElevatED, FSU alumni who are working as teachers in Florida will be sent a care package later this fall that includes a stuffed Cimarron, the official mascot of the Florida State Athletics Kids Club, that can be placed on their desks or other highly visible areas of their classrooms.
"This care package is a token of our appreciation for all that they do," Andrew said. "We also want our alumni to be able to show their FSU pride. By having Cimarron in a prominent location, it will no doubt spur curiosity from their students about FSU and provide our alumni with the opportunity to talk about their time here and why they chose to go into education. We will continue to need high quality teachers in the future, and this initiative helps the next generation of students think about the profession of teaching as their way to positively impact society."