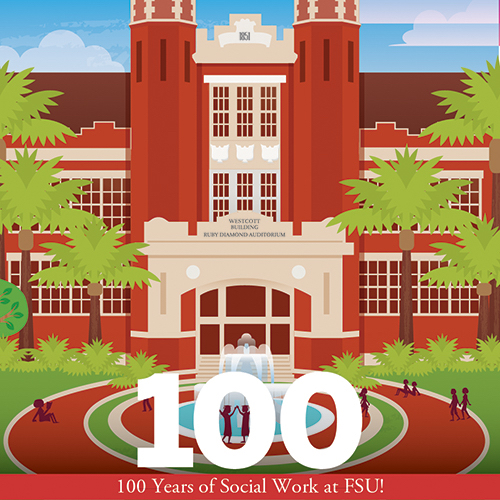 The FSU College of Social Work will commemorate "100 Years of Social Work at FSU" with a celebratory dinner at 6 p.m. Saturday, April 7, at the University Center Club's Champions Club. The event will include opportunities to explore and celebrate the past, present and future of the college.
The celebration will feature live music and displays of current college projects, research and initiatives. Representatives from the college's institutes and centers, along with faculty and current students, will share how the college is advancing social work education and the profession. 
The origins of the college date back to 1918 when the university was the Florida State College for Women and faculty members such as Raymond Bellamy — founder of the Department of Sociology — began teaching courses in social welfare. This strong beginning provided the bedrock for social work programs at Florida State University, including the development of the BSW, MSW and Ph.D. programs.
One hundred years later, the College of Social Work is one of FSU's 16 colleges, proudly led by Dean Jim Clark.
"FSU's historical commitment to public service through social work continues to inspire all of us as we move into our second century of excellent education, service and research," Clark said.
The event also will feature remarks by FSU President John Thrasher and Provost Sally McRorie, recognition of distinguished alumni and reflections of a current social work student. 
Tickets for the milestone celebration are $50 and include hor d'oeuvres, a buffet dinner, exclusive commemorative event keepsakes and a photo booth. To purchase tickets, visit http://bit.ly/FSUCSW100years.
Tours of campus will be held at 2:30 and 3:30 p.m. Friday, April 6, at the FSU Visitors' Center. The tours will explore campus locations and points of significance for the College of Social Work. Register for tours at http://bit.ly/2nrnnUQ. 
For more information, contact Meredith Millsap at mmillsap@fsu.edu or (850) 645-9767, or visit http://csw.fsu.edu/100years.