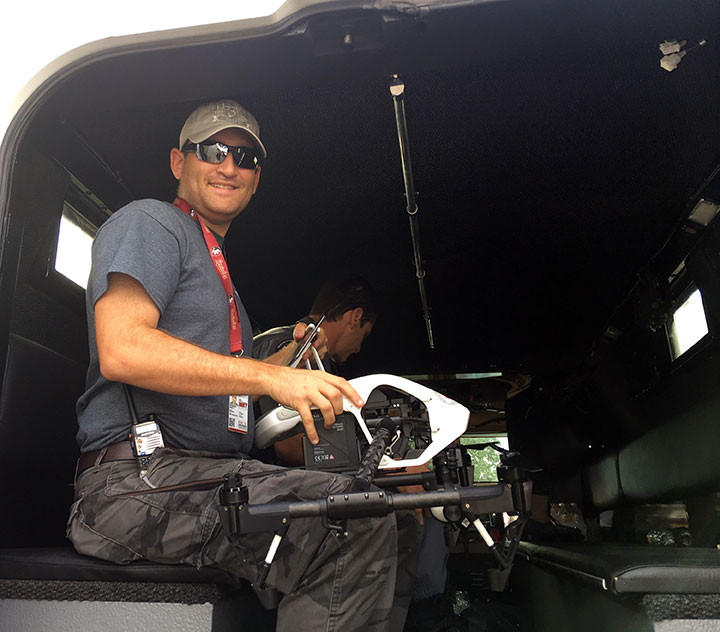 The Florida State University Emergency Management and Homeland Security program has been busy in recent weeks helping to serve storm-damaged areas after major hurricanes left vast devastation in Texas and Florida.
Most recently, the FSU Emergency Management and Homeland Security (EMHS) program was activated by the Florida Division of Emergency Management to support statewide preparations for Hurricane Irma, which affected nearly all of Florida over several days in early September.
"EMHS was able to offer valuable assistance and service during the emergency," said Audrey Heffron-Casserleigh, a professor of the program and senior fellow of the FSU College of Social Sciences and Public Policy Center for Disaster Risk Policy, which houses EMHS. "It was also a great way to get students involved in the front lines of preparedness."
The Irma activation included recruiting student volunteers as part of the Student Disaster Corps run by EMHS. Nearly 40 students were placed as disaster volunteers with the Florida Division of Emergency Management, the Florida Department of Health and Volunteer Florida. Student volunteers worked around the clock answering calls to emergency hotlines and helping enter shelter management data.
EMHS also runs the critically important Virtual Operations Support Team which tracked trends and rumors about Hurricane Irma on social media. The team flagged potentially dangerous or erroneous information and sent it to officials who could address any misinformation.
Students also monitored social media reports concerning gas shortages, traffic problems, power outages and individuals needing assistance. The information was compiled in situation reports and sent to the Florida Division of Emergency Management, providing a citizen-level perspective.
EMHS faculty, staff and students worked directly with emergency management officials in many capacities at the State Emergency Operations Center in Tallahassee.
The college's EMHS team used unmanned aerial systems (UAS) — commonly known as drones — to assist with airspace coordination and communication.
The UAS team also deployed to South Florida following the landfall of Hurricane Irma. The team was tasked with supporting urban search and rescue operations, as well as working directly with FEMA to conduct damage assessments of impacted areas.
The team had just returned from Texas, where they partnered with the Texas A&M Center for Robotic Assisted and Search and Rescue to perform damage assessment of critical infrastructure after Hurricane Harvey.
In addition, the team supported Fort Bend County emergency management officials as they assessed the conditions of 145,000 evacuated homes. Those images were used by emergency managers for situational awareness and were shared with local, state and federal emergency managers to speed up the recovery and reimbursement process.
For more information about Florida State University's Emergency Management and Homeland Security program, visit em.fsu.edu.