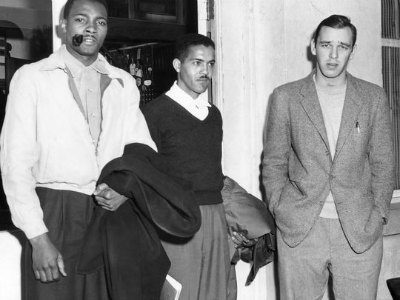 Sixty years ago, two young black women sat down on a Tallahassee bus and changed the course of civil rights history.
The City of Tallahassee, and local partners including Florida State University, commemorated the 60th anniversary of that historic moment, which inspired the Tallahassee Bus Boycott in 1956.
The ceremony honored the courageous men and women who took a stand against racial inequality during the local civil rights movement.
During the event at Under the Over at Lake Anita, city officials unveiled a bus wrapped in a mural of boycott participants. FSU Provost Sally McRorie was one of several Tallahassee dignitaries who spoke at the commemorative ceremony.
"This is a wonderful time to reflect on the contributions our community has made to the civil rights movement," McRorie said. "Through nonviolent protest, Tallahassee served as a beacon of hope for so many."
The boycott began May 26, 1956, when two FAMU students, Wilhelmina Jakes and Carrie Patterson, boarded a Tallahassee city bus and took a seat on a bench next to a white woman. After refusing to move to the back of the bus, the two students were arrested and charged with placing themselves in a position to "incite a riot."
In the days following the incident, the black community organized a bus boycott. For seven months, black residents refused to ride city buses, which led to the arrest of 26 people and two temporary shutdowns of the bus company.
With racial inequality still evident in the Tallahassee community on Jan. 19, 1957, three black FAMU students and three white FSU students boarded a bus and took their assigned seats. Once the bus began moving, one white FSU student, Joe Spagna, left his seat and traded with one of the black students. Spagna was asked to move, but when he refused, he and his two black friends, Leonard Speed and Johnny Herndon, were arrested. The three men were found guilty and sentenced to 60 days in jail and fined $500. The case was later appealed to the U.S. Supreme Court, which refused to hear the case.
Spagna was the only white person arrested during the Tallahassee Bus Boycott, and his efforts played a small, yet integral role in the Tallahassee civil rights movement.
"What they set in motion is a powerful example of how small acts of heroism by everyday people can lead to big changes that can transform the world we live in," McRorie said.