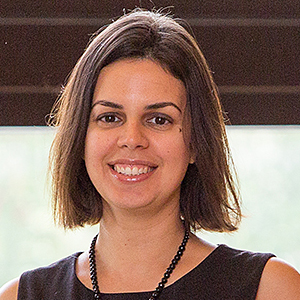 A new Florida State University study of underrepresented high school students suggests that schools can increase student success by facilitating social support structures that enhance students' perceptions of value and esteem for their potential.
Lara Perez-Felkner, an assistant professor of higher education and sociology and a senior research associate at Florida State's Center for Postsecondary Success (CPS), published the study in the journal Teachers' College Record. The three-year study analyzed the variation in students' educational pathways to college by specifically asking "How can the social context of schools keep underrepresented minority students on track to transition to college?"
Perez-Felkner, using a case study of a predominantly Latino and low-income urban charter school, found that students observe and value support from teachers and peers, embedded within the school's social context. Collectively, highly structured support networks appear to have a positive effect on student's college transition outcomes.
"These kids work hard to get ready for college, and the stress on them and their families can take a toll," Perez-Felkner said. "Some students seemed more likely to persist through these challenging years if they perceive support from their teachers and peers."
The study responds to the myriad school reform efforts that are attempting to address stratification in black and Latino students' access to higher education through extensive reform initiatives, including these focused on social supports. Crucially, these efforts have not sufficiently focused on how students experience these reforms, which is essential to improving the effectiveness of support mechanisms and understanding why they have been insufficient.
"Even today, the schools most often attended by underrepresented students tend to offer fewer resources and support," Perez-Felkner said. "While local, state and national reform efforts have targeted academic and structural dimensions of schooling, measures of their success rarely take the student perspective into account."
The study employed traditional metrics such as college placement and academic preparation, while leveraging detailed analysis of the social fabric of the school as a potential support network to paint a detailed picture of the nuanced and at times fraught pursuit of what is increasingly a universal aspiration: college.
Nearly all students in the study encountered hurdles threatening to derail their college ambitions. Five primary and at times interrelated stressors emerged: academic grades, predicted stereotype threat, family responsibilities, family estrangement and burnout.
Among other things, the researcher measured school regard — the feeling students had that adults at school as well as their peers believed in them during stressful times, and specifically, how they regarded their capacity for educational success.
"School regard was associated with students' persistence through the transition to college — and to stronger colleges — even in the face of academic, socioeconomic, and personal challenges," Perez-Felkner said.
As recommendations for school and policy leaders, the study underscores that while enhancing rigor and pedagogy are effective for well-resourced students, the non-academic challenges often encountered by underrepresented students can get in the way of their ability to respond to these reforms. Therefore, interventions to help students achieve a more positive school-life balance and manage non-academic stress may enhance underrepresented students' successful transitions to college.
"Having school-based allies who think they are intelligent, capable, and worthy of pursuing and realizing their college ambition can be a crucial factor in keeping underrepresented students on-track to successfully transition to college," Perez-Felkner said. "Schools should be organized in a way that students have the opportunity to develop close relationships at school, which can enhance and reinforce their aspirations to go to and graduate from college."
Finally, the study notes that attempts to evaluate school effectiveness may problematically underemphasize students' interpretation of these reform efforts. Rather, students' perceptions of their school context may be more accurate measure of their success.
The research was funded by the Spencer Foundation Dissertation Fellowship for Research Related to Education, with additional support from National Science Foundation, the American Educational Research Association and the Pathways to Adulthood Programme.
For more information, read the CPS policy brief with a summary of key findings and implications or the full article.