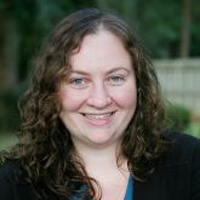 New research by a Florida State University psychology professor is paving the way to better understand how children develop language skills and to identify potential warning signs that indicate trouble learning.
Assistant Professor Arielle Borovsky, who came to Florida State in 2013, received $439,934 from the National Institutes of Health (NIH) to examine early childhood language skills and find specific signs that children are learning — or not learning — vocabulary at a normal rate.
"Can we find which children will need extra help with their language and reading skills before they're even talking?" she said. "Which words are they learning? And are they understanding these words differently than other children? These things seem to matter."
For most families, problems with language and literacy skills are not addressed until children begin school. However, there could be earlier signs in how children learn and understand words that may predict future language growth.
Borovsky's project will delve into the many unknowns in this area. To get a truly accurate look at children's learning capabilities at such a young age, Borovsky will need to spend several years working with the same children and watching them grow and learn.
"We need to understand how children normally learn words, and this project will help us do that," she said.
To capture a detailed picture of early language growth, Borovsky will work directly with children who are 16 to 18 months old and follow their progress until they are about 3 years old.
Each child will complete specifically designed tasks masquerading as a video or a game. For example, while children watch a video, Borovsky and her team will use eye-tracking technology to measure in real time how children look towards pictures of items named in a story.
"Eye-tracking technology gives us a real-time measure of language and cognitive processing while the child naturally responds to a short video," Borovsky said. "We are trying to make it fun for them."
Every six months, the same children would come back to the lab and play another set of games.
"We'll be able to enroll about eight to 10 new families every month over the next two years," Borovsky said.
Chris Schatschneider, director of the developmental psychology section of the FSU Department of Psychology, said Borovksy's work fills a gap in the department because many researchers have been more focused on school-age children.
"Arielle's research expands the coverage of our developmental years to the very important and formative years before formal schooling begins, and focuses on a skill by which all other academic skills rely— language comprehension," he said."We are excited about Arielle's research, and we believe that it will further our understanding of this critical area of human development."
Jeanette Taylor, chair of the Department of Psychology, said Borovsky's work is a great fit for FSU as well.
"This work complements other lines of research in the Psychology Department focusing on both typical and atypical forms of development," she said. "Dr. Borovsky is both a cognitive and a developmental psychologist, and her new grant work also clearly bridges those two areas of the field in an exciting way."
Borovsky's lab is not a clinical one, so her team does not make diagnoses or offer treatment to children exhibiting learning disabilities. However, she and her students can provide parents with contact information to local clinics and agencies if they are in need of further assistance.
Two graduate students and several undergraduate assistants will assist in the research.
Parents who are interested in having their children participate in the study should visit the FSU Language and Cognitive Development Laboratory.