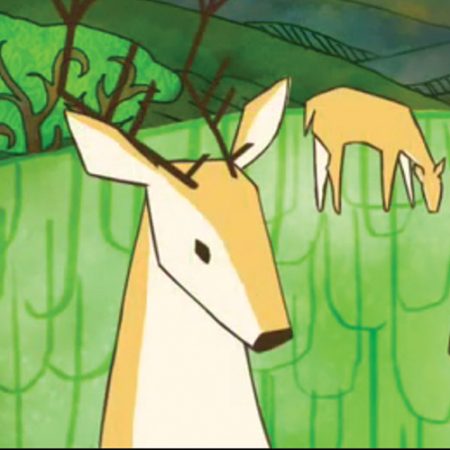 In the tradition of Schoolhouse Rock!, a multidisciplinary group of Florida State University students and alumni have produced a series of educational videos that describe ecological concepts in entertaining ways.
Each video in the series, "The Animated Foundations of Ecology," has its own director and unique style covering a different ecological topic: keystone predation, population control, predator-prey relationships and island biogeography.
Commissioned by the Ecological Society of America to debut during its centennial conference Aug. 9-14 in Baltimore, Md., the video series was produced by Ecomotion Studios of Tallahassee.
"We are excited about this project because it brought together so many Florida State University scientists and artists to produce something that is useful and educational, but also really fun to watch," said Will Ryan, an FSU biological science graduate student who is working as a scientific collaborator for Ecomotion.
Between the conference's plenary session and smaller sectional meetings, Mutz estimates that as many as 6,000 people will see the series.
In addition, the series and a behind-the-scenes video will be screened locally at 7 p.m. Monday, Aug. 31, in the cinema of FSU's Askew Student Life Center, 942 Learning Way. A panel discussion will follow the screening.
"The World is Green" by Ecomotion Studios of Tallahassee.
The videos in the series are:
•"Life of Every Color and Kind": To address keystone predation, the video will introduce a suite of colorful critters, from barnacles to nudibranchsto seastars, and everything that can settle in between. This radical diversity is supported in a most surprising way — through the voracious appetite of a top predator.
•"The World is Green": The video discusses the factors that limit populations andillustrates a vibrant, elegantly interacting system of plants, herbivores, predators and decomposers.
•"Huffaker's Balancing Act": Predator-prey relationships are theoretically cyclic, but showing thisempirically has always been quite the trick. The video illustrates how scientist Carl B. Huffaker succeeded, using a series of increasingly outlandish measures to show the complexity needed for the coexistence of a predator and its mite.
•"Mangrove Melody": With a smattering of mangrove stands, big and small, near and far, scientist Daniel Simberloff puts the hypothesis of island biogeography to the test. Inthe process, he gets in tune with the forces of colonization andextinction in determining the composition of isolated communities.
To produce the series, the award-winning animation studio employed numerous FSU students and alumni representing studio art, graphic design and biological science.
•Animators: Lauren Anderson (BFA '14, Studio Art), Sarah Jezierny (BFA '14,Graphic Design), Monique Boileau (B.A. '15, Studio Art; B.A. '15, English) and Kelley Cunningham, a student majoring in studio art.
•Scientists: Ryan and biological science graduate students Jessie Mutz, Abigail Pastore and Johanna Imhoff, and biological science Associate Professor Janie Wulff.
•Supporting Artists: Art majors Thy Le, Maddison Stevens and Dominic Gannon, and Jenni Jackson (B.A. '15, Studio Art).
Ecomotion got its start in 2014 when Ryan, Anderson, Jezierny, Boileau and then-FSU student Julia Kunberger — representing biological science and the visual arts —collaborated to produce "Drift," a 1-minute, 44-second animated video that depicts the concept of evolutionary drift. It won first place at the 4th annual Evolution Film Festival in June 2014.