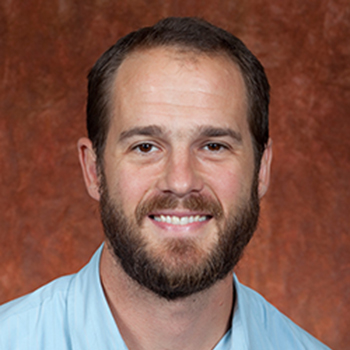 George Boggs is always looking for different ways for literacy to serve practical goals. His latest endeavor has turned a piece of empty land into an entrepreneurial classroom.
Boggs, an assistant professor in the College of Education's School of Teacher Education, and his students at Florida State University have provided ongoing mentoring and academic support efforts for 50 LARGE, a gang prevention initiative by Leon County Schools.
50 LARGE was established in 2009 by a Gang Free Schools and Communities Grant from the Office of Juvenile Justice and Delinquency Prevention with the focus of changing lives by inspiring hope, molding character, teaching responsibility and providing "real" economic opportunity.
With an academic piece already in place, 50 LARGE coordinators sought out Boggs' help in implementing a workforce development component for the program. And so, the idea to convert residential land in Tallahassee into an incubator for food and agriculture-related businesses was born.
"That fit really nicely with my research efforts and how literacies help people solve real problems in their lives," Boggs said.
A year ago, Boggs and select participants of 50 LARGE began cultivating the land into a fully functioning farm. Through the project, participants are developing skills in marketing, STEM fields and interpersonal communication. In March, 50 LARGE sold produce they had planted, tended, picked, packaged and priced at the opening of the Frenchtown Heritage Market.
"The idea with the farm project was to have a very malleable space where adolescents could make some decisions and take things in a direction that really isn't the way most reform schools or alternative schools or most high schools are arranged," Boggs said.
50 LARGE members, like Tyge Williams, are taking leadership roles in the project, making money and making decisions on the farm. Participants are learning how to create jobs for themselves in economic growth areas designated by federal, state and local governments.
Through this entrepreneurial enterprise, Boggs is doing hands-on research to discover the kind of programming that works best to facilitate the interests of 50 LARGE participants.
"This project was inspired by a sense of mutual opportunity as theCollege of EducationandFlorida State Universitypromoted an initiative for entrepreneurship," Boggs said. "I wanted to create an entrepreneurial educational goal for communities at risk for low school achievement."
At the farm, participants are able to develop a resume and a set of experiences to help them find steady work and inspire future learning.
"If these participants are equipped with this knowledge, it will create a ripple effect and help underdeveloped communities realize their potential," Boggs said.
The academic partnership Boggs developed with 50 LARGE has had an influence not just the participants but also on FSU's teacher education students.
"There is so much to be gained for my undergraduate students coming into the academic tutoring aspect of this," Boggs said. "It is an opportunity for them to search themselves and enlarge their minds and develop relationships that can strengthen them as teachers."
Boggs is hoping the farm project also can be beneficial to his education students. He is expecting two doctoral students to enroll and help with it next fall.
50 LARGE participants are selling fresh produce via social media, and at the Frenchtown Heritage Marketplace in Tallahassee from 9 a.m. to 1 p.m. Saturdays.
With the support of FSU's English Education program, 50 LARGE participants also are developing web platforms to help market their products and tell their stories.