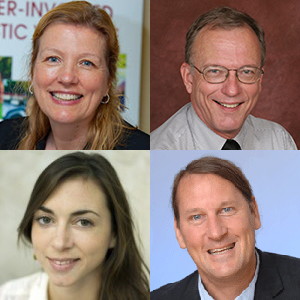 A group of researchers from Florida State University received a $250,000 grant from the Vandermark Foundation to create an online toolkit designed to foster healthy co-parenting in families of divorce.
"We know that good co-parenting helps create healthy, well-adjusted children," said Karen Oehme, director of the Institute for Family Violence Studies at FSU's College of Social Work. "We are exceptionally grateful to the Vandermark Foundation for recognizing the need for this crucial and inspirational project. The project could not have proceeded without the foundation's extraordinarily generous funding."
The Successful Co-Parenting After Divorce project is a joint effort of Florida State's College of Education, College of Communication and Information and College of Social Work.
"I was excited to see the FSU community come together for this collaborative project," said Peter Scanlon, an alumnus of Florida State University and president of the Vandermark Foundation. "After decades of working in community mental health services and seeing the need for this training, I am thrilled that we are supporting FSU's important work."
About a quarter of families in America are currently single-parent families with children under the age of 18, and more than a million additional children experience the divorce of their parents each year. Research indicates that children are healthier when their parents have the knowledge and skills essential to resolving conflicts and can prioritize the well being of their children.
The project will teach parents the skills necessary to sustain a positive environment for their children and to foster their healthy growth and development.
The objectives of the initiative are to:
Educate families on the effects of divorce and conflict on the family system and about the protection that co-parenting provides;
Facilitate healthy co-parenting relationships through promotion of communication and conflict-reduction skills and strategies; and
Train mental health professionals, lawyers and other professionals who work with divorcing couples on the dynamics of healthy co-parenting.
Faculty, staff and students from the School of Communication's Digital Media Production Program and the College of Motion Picture Arts are producing a series of video components for the project. The videos present engaging material that depicts effective modeling and real life testimony to help parents as they navigate the divorce process.
The researchers plan to seek certification for the online course as an approved mandatory parenting program for divorcing parents in Florida and Massachusetts, with the potential for expansion to all states that mandate parenting education.
"The entire FSU community, the state and families nationally will benefit from this extraordinary gift and FSU's commitment to excellence through intercollege collaboration over the next several years," said James Sampson, associate dean in the College of Education.
The toolkit will be available at no cost to the multitude of families who experience divorce annually, as well as to family members, mental health professionals and lawyers who support these families through the divorce process.
Parents and professionals will be invited to participate in a study associated with the training to gauge its impact on parents' attitudes and behaviors. The online site will launch this fall and be available nationwide.