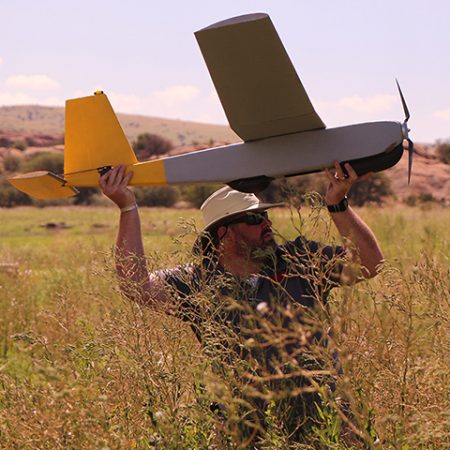 Florida State University is set to launch a new course that will actually have its students excited about their instructors droning on and on.
Unmanned aircraft systems (UAS), commonly referred to as drones by the military community, have become all the rage, attracting everyone from weekend hobbyists to private investigators to Amazon, which recently asked the Federal Aviation Administration for permission to begin testing the vehicles for delivery purposes. But for the university's Emergency Management and Homeland Security (EMHS) Program, the potential applications of this technology far outstrip its appeal as the latest toy.
In the spring 2015 semester, EMHS will begin offering Introduction to Unmanned Aircraft Systems, the first course in an evolving program of Application of Small Unmanned Aircraft Systems, part of the EMHS Program. The qualifier "small" refers to a UAS of less than 55 pounds, but don't let the size fool you. The impact on scientific research, policy-making and the economy promises to be great.
About 100,000 jobs related to the UAS industry will be created between now and 2025, according to the Association for Unmanned Vehicle Systems International (AUVSI). The economic impact in Florida alone is predicted to be $3.8 billion during the same time frame. AUVSI estimates 15,000 new drones in service by state and local agencies in the next 15 years. That means the number of people qualified to use them properly must keep pace, and that's just what the EMHS program aims to address.
"Our discussions with state and local emergency managers show intense interest in what drones can do for the field of emergency management, particularly emergency response, recovery and mitigation," said David Merrick, deputy director of the EMHS program in the College of Social Sciences and Public Policy. "These versatile systems can capture still and video imagery of disaster impacts and provide critical, near-real-time assessments for a fraction of the cost of manned aircraft."
The program will be the first such academic track at a major Florida public university, preparing students to use UAS in a variety of public and private applications, such as monitoring wildfire lines, identifying hot spots in burning buildings, monitoring and forecasting agricultural conditions, and locating and communicating with people stranded in disaster situations.
EMHS is well-placed to offer the program because of its internal expertise and associations with other departments and programs within the college, according to Merrick.
The team has extensive capabilities with UAS technology, not only in practical hands-on use, but also in terms of regulations, requirements and the realities of employing data in various fields. EMHS has used UAS in two disaster risk-reduction projects in Haiti and is currently working with the Florida Division of Emergency Management to explore integrating the technology more fully in public safety and disaster decision-making.
Three faculty members in the program have been certified as operators by the manufacturers of specific aircraft: Merrick; Jarrett Broder, EMHS director of information technology and research fellow; and Robert McDaniel, Center for Disaster Risk Policy faculty researcher and senior fellow and EMHS instructor and internship coordinator.
Some material pertaining to UAS is unique and requires the development of new courses; other instruction will initially draw from the departments of Geography and Urban and Regional Planning, in keeping with the interdisciplinary approach to education fostered by the College of Social Sciences and Public Policy.
The biggest hurdle to clear is the necessarily stringent rules on where to fly UAS. EMHS strictly complies with all current Federal Aviation Administration (FAA) regulations. A team from the program was invited to attend a Federal Emergency Management Agency (FEMA) conference in Atlanta in October to begin talks with the FAA on revised guidelines as they apply to emergency management.
To date, the restrictions on commercial use of UAS have been "severe," Merrick said, and higher education is still categorized as commercial. New FAA rules could open use by universities to the broader research guidelines. In the meantime, the team is exploring the use of large local buildings in which to operate the craft indoors and relatively unrestricted. In any case, the introductory course to be offered in the spring will not require any flying, though opportunities will exist.
"There's much in the way of understanding the technology and its applications, not to mention the policy issues involved with the use of UAS that students need to learn before they get their craft up in the air," Merrick said. "By the end of this program, these students will have unique experience in every aspect of UAS deployment, remote sensing applications and putting UAS imagery to work in a wide range of specializations — and know how to fly them!"