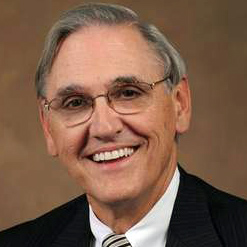 John R. Carnaghi, who served as Florida State University's senior vice president for Finance and Administration from 1991 until his retirement shortly before his death in February 2013, was awarded a posthumous Honorary Doctor of Education degree by Purdue University during its spring commencement ceremonies at the West Lafayette, Ind., campus in May.
Before coming to work at Florida State in 1991, Carnaghi was a longtime Purdue administrator. His career at Purdue included service as vice chancellor for Financial Affairs at Indiana University-Purdue University at Fort Wayne from 1980 to 1990.
He earned a Master of Science degree in higher education from Purdue in 1975.
During his 22-year tenure at Florida State, Carnaghi was known for his leadership, integrity and innovation. In October 2013, Florida State also gave Carnaghi a posthumous recognition by naming a building in his honor. The Carnaghi Arts Building houses art studios and workshop space.
Carnaghi was among 13 individuals given honorary doctorates by Purdue University this spring.
To read more about Carnaghi's achievements, click here.